Covid-19 India Live Updates: The Union Health Ministry Thursday said that more than 1.84 crore doses of the Covid-19 vaccine are still available with states and UTs and they will receive over 11 lakh doses within the next three days.
As per PTI, the Centre has so far provided, both through the free of cost category and through direct state procurement category, more than 22 crore vaccine doses (22,16,11,940) to states and UTs.
Earlier today, Delhi Chief Minister Arvind Kejriwal sought procurement of Pfizer's Covid-19 vaccine as soon as possible to inoculate children. This comes after the US pharma company sought fast-track approval for its jab in India. The US major has told Indian authorities that its vaccine is suitable for everyone aged 12 years or above and can be stored for a month at 2-8 degrees. "We shud procure this vaccine asap for our children," Kejriwal tweeted.
India, in the last 24 hours, recorded 2,11,298 new Covid-19 cases. Tamil Nadu was the top contributor with 33,764 people testing positive for the virus, while Kerala saw 28,798 cases. Active cases decline to 24.19 lakh, a reduction of over 75,000 on Wednesday. However, the country also recorded 3,847 deaths reported on Wednesday. While Maharashtra witnessed 1,013 deaths, Karnataka saw 530 and Tamil Nadu 475.
As many as 1,572 children in Maharashtra have lost either one or both their parents due to the coronavirus infection so far, sources said on Thursday. While 1,474 children lost one parent, 98 others lost both the parents during the pandemic, the sources in the state Women and Child Development Department said.
"Of the 98, the government has got custody of 10 children since there is nobody to look after them," they said. The data about the orphaned children has been compiled based on the inputs of the district task force headed by the collectors. The government had set up a 10-member task force in each of the 36 districts in the state to identify the children orphaned due to the pandemic. The task force will also oversee the arrangements of their shelter and supervise their adoption to ensure that there is no trafficking and exploitation. (PTI)
The Bombay High Court on Thursday directed the Maharashtra government to investigate how celebrities and politicians procured anti-Covid drugs and injections to help those in need when the same were available only in scarce quantities across the country. A vacation bench of Justices Amjad Sayyad and G S Kulkarni said such celebrities might have had the noble intention of helping others, but only the Union government was authorised to allocate those drugs.
These people (celebrities) might not realise that they are acting in defiance of the legal set up, it noted. Therefore, an inquiry must be conducted to rule out issues such as illegal procurement, hoarding, black-marketing and providing spurious drugs. The court's order came after Advocate General Ashutosh Kumbhakoni, who appeared for the Maharashtra government, submitted that the state had issued show cause notices to Mumbai Congress MLA Zeeshan Siddique, actor Sonu Sood's charity foundation, and some others over the matter. (PTI)
Centre is doing politics. They should not give such misleading reports. Those who go for vaccination without registering on CoWin are being deemed by them to be cases of vaccine wastage. There has been 0.6% vaccine wastage in the 45+ category and around 0.8% vaccine wastage in 18+ category — much lower than the 1.6% that is has been stated by the Centre: Chhattisgarh CM Bhupesh Baghel. (ANI)
Centre is doing politics, they should not give such misleading reports. All our reports are going to them. Those who go for vaccination without registering on CoWIN are being deemed by them to be cases of vaccine wastage: Chhattisgarh CM on #COVID19 vaccine wastage in the state pic.twitter.com/WwTuxg8AMO

— ANI (@ANI) May 27, 2021
Scientists have identified persistent damage in the lungs of Covid-19 patients at least three months after they were discharged from hospital, and for some patients even longer. This damage was not detected by routine CT scans and clinical tests, and the patients would consequently normally be told their lungs are normal, according the researchers at the universities of Sheffield and Oxford in the UK.
The study, published in the journal Radiology, also shows that patients not hospitalised with Covid-19 but who experience long-term breathlessness may have similar damage in their lungs. However, the researchers said a larger study is needed to confirm this. They noted that hyperpolarised xenon MRI (XeMRI) scans had found abnormalities in the lungs of some Covid-19 patients more than three months — and in some cases, nine months — after leaving hospital, when other clinical measurements were normal. "The findings of the study are very interesting," said Professor Jim Wild from the University of Sheffield. The 129Xe MRI is pinpointing the parts of the lung where the physiology of oxygen uptake is impaired due to long standing effects of Covid-19 on the lungs, even though they often look normal on CT scans. (PTI)
Defence Minister Rajnath Singh on Thursday launched an online medical consultation platform to ensure hassle-free health services for armed forces' personnel and veterans. Singh said the online outpatient platform will ensure widespread access to quality health services in remote areas besides reducing the load on the hospitals.
"This is a very important step taken at a very critical time for the health of service personnel," the defence minister said launching the service at a virtual event. Chief of Defence Staff Gen Bipin Rawat, Army Chief Gen M M Naravane and Navy Chief Admiral Karambir Singh were among those who attended the event. Referring to the coronavirus crisis, the defence minister said the second wave was not only unpredictable but more dangerous than the first one. He said the armed forces have contributed significantly in the country's efforts to combat the pandemic. Singh said the central government has been constantly monitoring the situation and making efforts to improve the supply of medicines, medical oxygen and other equipment through high-level committees and a group of ministers. (PTI)
Amid speculations that some attempts were on within the ruling BJP to replace him, Karnataka Chief Minister B S Yediyurappa on Thursday said controlling the Covid-19 pandemic and protecting the interests of the people were his only priorities now.
"The only thing before me is Covid, controlling it and protecting the interest of the people is my priority. If some has gone somewhere (referring to some legislators going to Delhi to meet high command), they have been given the right answers (by the high command) and sent back," Yediyurappa said.
Speaking to reporters in Bengaluru, he said when people are in distress and deaths are increasing due to Covid, controlling it together should be the priority of legislators, Ministers and everyone. "We should focus towards it (controlling Covid), there is no other matter in front of me, facing Covid is my first priority," he added.
More than 1.84 crore Covid-19 vaccine doses are still available with states and UTs and they will receive over 11 lakh doses within the next three days, the Union Health Ministry said on Thursday. The Centre has so far provided, both through the free of cost category and through direct state procurement category, more than 22 crore vaccine doses (22,16,11,940) to states and UTs.
Of this, the total consumption, including wastages is 20,17,59,768 doses, the ministry said. As part of the nationwide vaccination drive, the Centre has been supporting the states and UTs by providing them Covid-19 vaccines free of cost. The Centre has also been facilitating direct procurement of vaccines by states and UTs. Implementation of the Liberalized and Accelerated Phase-3 Strategy of COVID-19 Vaccination has started from May 1. (PTI)
The Delhi High Court on Thursday directed the Delhi government to treat as a representation a PIL claiming that the quarantine centre at Sultanpuri here for Covid-19 patients is "unhygienic", "uninhabitable" and lacks medical professionals to monitor them, and ordered it to take "immediate action" on the concerns raised in the plea.
A bench of Chief Justice D N Patel and Justice Jyoti Singh asked the Delhi government to take immediate action on the issues raised in the plea as early as possible and practicable. With the direction, the court disposed of the petition by a student of Jawaharlal Nehru University who has said in her plea that she tested Covid-19 positive while staying at the varsity campus and since there was no quarantine facility in there, she was transferred to the Sultanpuri Isolation Centre. The student had claimed that to her "utter shock" the quarantine centre was unhygienic and no facilities were given to the patients.
During her four day of stay at the centre, she had found that "patients at the quarantine facility were suffering severely not only on account of their illness but also due to the negligence of the government authorities in providing them with basic facilities like sanitation, food, medicines, clean mattresses and blankets, regular doctor visits, proper monitoring of oxygen, etc". She had also alleged in her plea that "not a single person visits these wards, be it a doctor, nurse or any ward officials". "The patients manage everything on their own. No doctor or a nurse visits the patients to check their vitals, temperature and oxygen levels. All of them have to come to the ground floor of the building to get checked and to obtain basic medicines. (PTI)
Mizoram on Thursday reported 207 new Covid-19 cases, pushing the state's tally to 11,143, an official said. At least 1,963 samples were tested in the last 24 hours, and the positivity rate was at 10.54 per cent, he said. While 206 cases were detected through Rapid Antigen Tests, one was confirmed at a TrueNat facility.
The death toll in the state is 34. Of the new cases, 94 were reported from the Aizawl district, followed by Lawngtlai (48), Lunglei (44), Serchhip (10), Kolasib (six) and Mamit (five). More than 30 children were among the newly-infected people, the official said. He said that 148 patients were found to be Covid-positive during contact tracing drives. (PTI)
Trials on children in India going to begin soon. However, vaccinating children shouldn't be decided on basis of panic in Whatsapp & because some politicians want to play politics. It has to be a decision by scientists after adequate data available based on trials, says NITI Aayog official. (ANI)
The union territory of Puducherry logged 1,137 new coronavirus cases during the last 24 hours taking the overall tally to 1,00,677, a senior official of the Health Department said on Thursday. The new cases were identified at the end of the examination of 9,473 samples, projecting a test positivity rate at 12 per cent, Director of Department of Health and Family Welfare Services S Mohan Kumar said. He further said 20 more people succumbed to the virus during the last 24 hours ending 10 AM Thursday, pushing the toll to 1,455.
Fifteen of the deaths were reported from the Puducherry region while three were from Yanam and two from Karaikal. Six of the deceased had no comorbidities, he said. The deceased were in the age groups ranging between 53 years and 84 years. He said as many as 1,486 patients recovered and were discharged during the last 24 hours. (PTI)
Arunachal Pradesh's Covid-19 tally rose to 25,376 on Thursday as 374 more people tested positive for the infection, while three fresh fatalities pushed the state's coronavirus death toll to 107, a senior health official said.
The fresh fatalities include two women from Lower Dibang Valley and Tawang districts and one man from East Siang district, State Surveillance Officer (SSO) Dr Lobsang Jampa said. The three patients died while undergoing treatment at healthcare facilities, he said. The Capital Complex region recorded the highest number of fresh cases at 76, followed by Tawang (74) and Changlang (71), the SSO said. Arunachal Pradesh now has 3,504 active cases. (PTI)
The Delhi High Court on Thursday sought response of the Centre and Delhi government on a plea seeking directions to them to ensure adequate supply of Covid-19 vaccine for the residents of the national capital. A bench of Chief Justice D N Patel and Justice Jyoti Singh issued notice to the Ministry of Home Affairs and the Delhi government seeking their stand on the plea by a lawyer.
The lawyer, Vivek Gaur, has claimed in his plea that due to lack of adequate supply of vaccines, he has not been able to get vaccinated till date. He has contended that while the Delhi government claims it has placed an order of over 1.34 crore doses of the vaccines with the Centre, the central government has claimed no such order has been placed. (PTI)
Zydus Cadila on Thursday said it is seeking permission from Drugs Controller General of India (DCGI) to initiate human clinical trials for monoclonal antibodies cocktail for treatment of Covid-19.
"Zydus is currently seeking permission to initiate phase 1/3 human clinical trials from the DCGI… ZRC-3308, a cocktail of two SARS-CoV-2-neutralizing monoclonal antibodies (mAbs) can emerge as one of the main treatments for mild Covid-19," Cadila Healthcare said in a regulatory filing. Cadila Healthcare is the listed entity of the group. ZRC-3308 has been found to be safe and well tolerated in animal toxicology studies. Zydus said it is the only Indian company to have developed a neutralizing monoclonal antibody based cocktail for the treatment of Covid-19. (PTI)
Delhi Chief Minister Arvind Kejriwal on Thursday sought procurement of Pfizer Covid-19 vaccine as soon as possible to inoculate children. This comes after the US pharma company sought fast-track approval for its jab in India. The US major has told Indian authorities that its vaccine is suitable for everyone aged 12 years or above and can be stored for a month at 2-8 degrees, sources had said.
"We shud procure this vaccine asap for our children," Kejriwal tweeted, citing a news story on fast-track approval sought by the company. The Delhi chief minister has been requesting the Central government to explore suitable vaccine options, citing opinion of experts that a possible third wave of Covid-19 in coming months may affect children. (PTI)
Ladakh has registered two more coronavirus fatalities and 235 new infections, taking the Covid-19 tally to 18,045 and death toll to 181, officials said on Thursday. Leh and Kargil districts reported one fatality each. Leh has accounted for 132 deaths and Kargil 49, officials said, quoting the bulletin released by the directorate of health services. Out of the new cases, 196 were in Leh and 39 in Kargil. The active cases stands at 1,664 with 1,443 in Leh and 221 in Kargil. A total of 130 more patients, including 100 from Leh and 30 from Kargil, have recuperated from the disease, taking the number of recoveries to 16,200. (PTI)
Even as concern grows over the increasing number of mucormycosis cases in the city, doctors have reported cases of another invasive fungal infection — aspergillosis — among Covid-positive patients as well as those who have recovered from the virus.
Vadodara, which has 262 patients undergoing treatment for mucormycosis in two government hospitals — SSG and Gotri medical college — now has at least eight patients of aspergillosis in SSG, admitted over the past week.
SSG also has 13 patients of Candida auris, an invasive, multi-drug-resistant yeast infection that is being found in Covid-19 patients. (Read Aditi Raja's report)
A tribal welfare department officer in a Chhattisgarh district has issued an order asking its staff members to get vaccinated against Covid-19, failing which their salaries for the next month will be withheld. A copy of the order, issued by the assistant commissioner K S Masram in Gaurela-Pendra-Marwahi district on May 21, went viral on social media where some people expressed displeasure over the 'diktat'.
The order asked officers and employees working in the tribal welfare department-run offices, ashrams (residential schools) and hostels in the district to get inoculated and submit their vaccination cards at its office. If they do not take the vaccine, their salaries for the next month will be withheld, said the order which came into force with effect from the date of being issued. Earlier, Masram also issued an order on May 20 for the Covid-19 vaccination of families of all officers and employees working in the department. (PTI)
The B.1.617 Covid-19 variant, first detected in India, has now been found in 53 countries, according to the WHO, which noted that India recorded a 23 per cent decrease in the number of new cases in the last seven days but they were still the highest in the world. The World Health Organisation's Covid-19 Weekly Epidemiological Update, published May 25, said that over the past week, the number of new cases and deaths continued to decrease globally, with over 4.1 million new cases and 84,000 new deaths reported, a 14 per cent and 2 per cent decrease respectively compared to the previous week.
According to the update, the B.1.617 variant, first detected in India, is now prevalent in 53 countries globally. The B.1.617 viruses are divided in three lineages – B.1.617.1, B.1.617.2 and B.1.617.3. The update gave a break-up of prevalence of the three sub-lineages of the B.1.617 variant in countries, territories and areas as of May 25. (PTI)
Thane has reported 900 new cases of coronavirus, raising the infection count in the Maharashtra district to 5,12,567, an official said on Thursday. These new cases were recorded on Wednesday, he said. The virus also claimed the lives of 46 more people, pushing the death toll in Thane to 9,009, he said, adding that the Covid-19 mortality rate here stood at 1.76 per cent.
Details of recovered and under-treatment patients were not provided by the district administration. In neighbouring Palghar district, the Covid-19 case count has gone up to 1,08,123, while the death toll has reached 2,010, another official said. (PTI)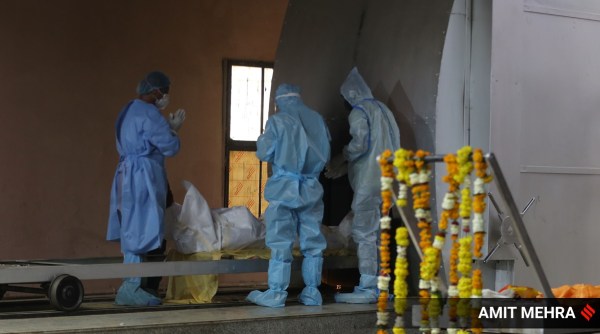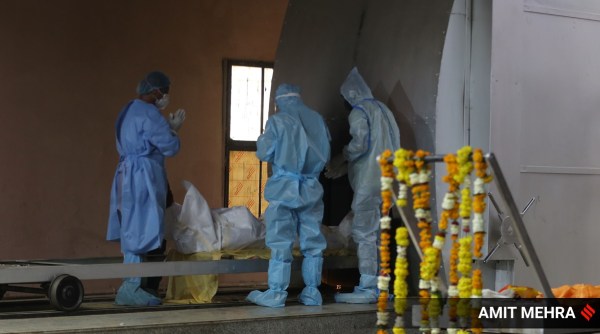 A person who died of COVID-19 being taken for cremation, amid a spike in coronavirus cases countrywide, at Nigam Bodh Crematorium in New Delhi, Wednesday, April 14, 2021. (Express Photo By Amit Mehra)
As India combats an acute shortage of coronavirus vaccines, US manufacturers Moderna and Pfizer are expected to bring some relief. Moderna is set to launch its single-dose vaccine in India by next year and is in talks with Indian manufacturers, including Cipla among others. Meanwhile, another US giant Pfizer is ready to offer 5 crore shots in 2021 itself but is calling for significant regulatory relaxations, sources told PTI.
Bharat Biotech on Tuesday said it expects approval for Covaxin from the World Health Organisation for Emergency Use Listing during July-September. The company said regulatory approvals for Covaxin are in process in more than 60 countries including the USA, Brazil and Hungary among others.
Meanwhile on Monday, the number of fresh cases reported 1,568 in Delhi, 1,037 in Mumbai, 6,243 in Bengaluru, 2,979 in Kolkata and 4,041 in Chennai.
Covid patients will not be allowed to remain in home isolation in 18 Maharashtra districts and must go to quarantine centres. Maharashtra Health Minister said, "We have decided to stop home isolation for Covid patients in 18 districts where the positivity rate is high. The patients from these districts will have to go to a quarantine centre and won't be allowed to stay in home isolation."
India recorded over 1.96 lakh new Covid-19 cases in the last 24 hours ending 8 am Tuesday, taking the country's total infections to over 2.69 crore . The daily spike in new cases have fallen below 2 lakh after a month. Out of these, over 25 lakh are active cases while over 2.40 crore people have recovered after testing positive. With 3,511 news deaths, the toll is now at 3,07,231. This is the the lowest spike since May 3. The drop is mainly because of Maharashtra reporting far lesser number of deaths.