K'taka sends fewer students abroad than its neighbours
BENGALURU: The number of Indian students choosing to study abroad has steadily increased since 2017, barring the pandemic-triggered slump. Karnataka, however, has been sending fewer students compared to other southern states, according to government data.
In 2019, 29,314 students from Karnataka flew out as against 69,465 from Andhra Pradesh, 41,488 from Tamil Nadu and 30,948 from Kerala. This year (till February 28), around 4,176 students have gone abroad from Karnataka, 11,790 from Andhra and 5,040 from Kerala.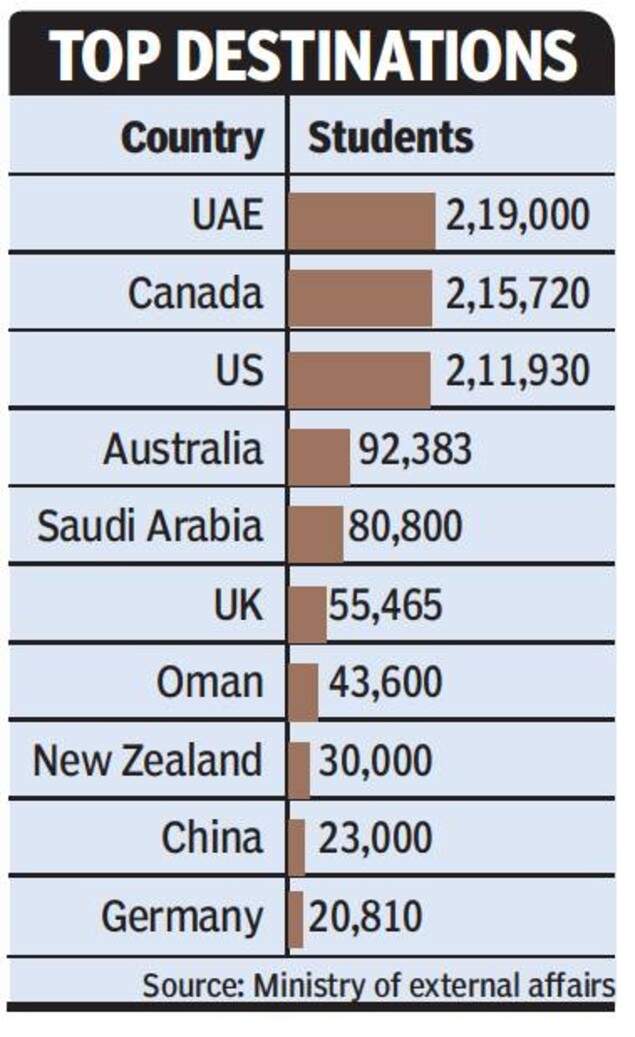 Though Karnataka has been observing a rise in the number of students enrolling in foreign universities and colleges, it has not been able to catch up with its neighbours. The figures are based on passports issued in each state.
According to the Bureau of Immigration's data, the number of Indian students who went abroad increased from 3,71,506 in 2016 to 5,88,931 in 2019. It fell to 2,61,406 in 2020 because of Covid-19.
Industry experts say Andhra has consistently led in sending students abroad. Karnataka may be recording relatively fewer departures as locally, there are more options for education, business and employment. Also, many candidates complete their studies in the state and fly out for jobs later.
A student counsellor at a consultancy in Bengaluru said that five of every 10 students seeking its guidance or services were from Andhra Pradesh. Only two are from Karnataka and the other three are from the remaining states. "Candidates from Karnataka are more inclined towards joining startups or seeking transfer abroad while working for an international company," she said.
The state's standing would have improved had the pandemic not struck. "The Covid-19 crisis has skewed the data. But we are sure Karnataka will overtake other states in two years. We have received several enquiries this year," the counsellor added.
Ramesh Hariharan, head for career and college placements at Inventure Academy, told TOI that it had not observed any decline in the number of students opting to move abroad. Its class strength goes up every year, so does the number of students flying out. "In 2020-21, around 75 per cent of our graduating class opted to pursue higher in other countries, and 50 per cent of them applied at universities in the US and others in the UK," he said, adding the academy's students had been awarded US merit scholarships amounting to $4.8 million over four years.
Vocal for local
According to Collegify cofounder Adarsh Khandelwal, the comparatively lower figures of Karnataka show an improvement in employability, reflecting the rich corporate and startup ecosystem. "Students in the state want to be professionally employed and grow in the industry. In the past three to four years, we have observed how Bengaluru has attracted talent in IT, fintech, edtech and more sectors. Students and their parents are well-informed and make intelligent decisions. Even if they do wish to pursue higher education, it is after gaining some work experience," he said, adding that many candidates returned to the country after completing courses in foreign institutions.
On how youngsters plan careers, he said: "Almost 35,000 students write GMAT every year and the highest number is from Bengaluru. It shows that students here like to get work experience, build their resumes and enhance skills instead of moving abroad immediately after graduation."
Akshay Chaturvedi, founder and CEO of Leverage Edu, a university admission platform, said Andhra Pradesh has always been ahead of others when it comes to the United Kingdom. "Given that UK was the only destination country majorly with borders open, it's not surprising there is this gap between it and the other southern states like Karnataka that has surplus demand for US and Canada. All this is about to change this year as both those major destinations are now open," he said.