Opposition lawmaker Hiranao Honda to quit over age of consent comments
Lawmaker Hiranao Honda expressed his intention to step down on Tuesday, after leaving the main opposition Constitutional Democratic Party of Japan the same day over inappropriate comments he made regarding the age of consent.

The CDP leadership accepted his resignation from the party, instead of suspending his party membership for a year as had been considered.
In a news conference, Honda suggested that he will step down as a member of the House of Representatives, the lower chamber of parliament, noting that he was elected on the CDP ticket from a proportional representation bloc.
In a party meeting on May 10, Honda is believed to have said: "I'm not far off 50 years old, but if I had sex with a 14-year-old, I would be arrested, even if there was consent. It's strange." The comment drew criticism from both in and outside the party.
Honda withdrew the remark and apologized, and Fukuyama gave him a verbal warning.
[embedded content]
---
Japan PM seeks faster COVID vaccine delivery from Pfizer- media
kfgo.com – Jul 23
Japanese Prime Minister Yoshihide Suga met with the CEO of Pfizer Inc on Friday, requesting faster delivery of COVID-19 vaccines, the Nikkei reported, as the Olympic host nation struggles with a slow rollout of vaccine amid a surge in infections.
Japan ups 2030 renewables goal in draft energy policy
AFP – Jul 22
Japan aims to hike its 2030 renewable energy target as part of efforts to slash emissions, according to draft documents released Wednesday, but activists described the planned goal as "disappointing".
U.S., Japan and other allies condemn China over cyberattacks
Japan Times – Jul 20
The United States on Monday condemned China for using "contract hackers" to conduct cyberattacks, and said Japan, NATO, the European Union and others are similarly critical of Beijing's "malicious" activity in cyberspace.
Suga cabinet support rate hits low of 35.9%
Japan Today – Jul 19
The approval rating for Prime Minister Yoshihide Suga's cabinet has fallen to 35.9 percent, the lowest level since he took office last year, a Kyodo News poll showed Sunday, adding to signs of public discontent with the government's determination to hold the Tokyo Olympics despite the coronavirus pandemic.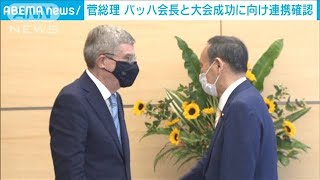 Suga, Bach vow to make Olympics safe and secure
NHK – Jul 15
Japanese Prime Minister Suga Yoshihide has expressed his determination to make the upcoming Tokyo Olympics safe and secure by taking all possible measures against the coronavirus.