K'taka sent 2nd highest number of insurance claims
BENGALURU: Data from the Union ministry of health and family welfare shows the central government received a total 1,194 applications from families of healthcare workers who died due to Covid-19 infections seeking life insurance benefits under the Pradhan Mantri Gareeb Kalyan Yojana.
The highest number of claims — 182 — are from Maharashtra, followed by Karnataka (129). Of the 129 Covid-19 martyrs from Karnataka, families of 71 have received the insurance sum of Rs 50 lakh each. The ministry has said 11 claims are being processed, but there is no clarity on the fate of the remaining 47 claims.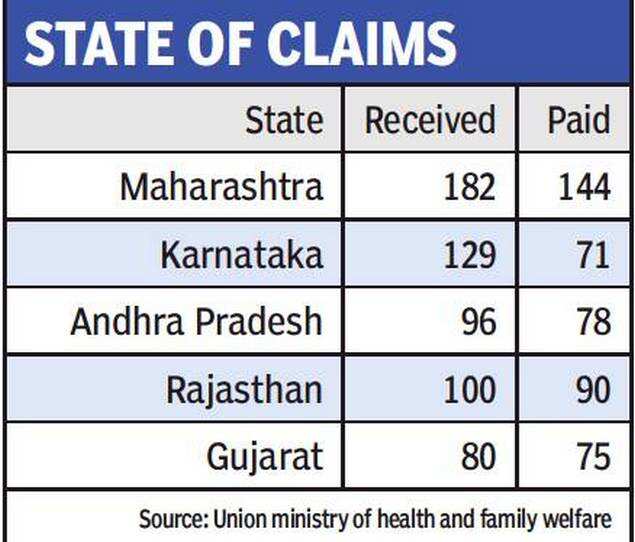 The scheme provides comprehensive personal accident cover of Rs 50 lakh for healthcare providers, including community health workers and private health workers drafted by the government for Covid-19 related responsibilities, who may have to be in direct contact with Covid-19 patients and who may be at risk of being impacted by caring for these patients.
When contacted, the state health and family welfare department too had no clue on how many applications from Karnataka were rejected.
However, Dr Om Prakash Patil, health commissioner, said the number of claims forwarded by the state government to the Centre may not reflect the actual number of healthcare workers who succumbed to the virus.
"There are several documents insurance companies ask for and insurers may reject claims which lack any or all supporting papers. Those approved by the government have got insurance benefits," Dr Patil said.
Of the 182 claims from Maharashtra, 144 have been approved. Though Karnataka has the second highest number of claims submitted, in terms of claims approved, Rajasthan is second after Maharashtra with 90 of its 100 submitted claims being cleared. Andhra Pradesh too has got more claims cleared than Karnataka: 78 out of 96.
However, according to Indian Medical Association, more than 90 allopathic doctors have died due to Covid in Karnataka since the pandemic hit.
"In Karnataka alone, 90 to 100 allopathic doctors have died in the first and second waves of the Covid-19 pandemic. We had submitted data on all the doctors who had died due to Covid-19 infections during the first wave to the state government. We are collecting data on doctors who passed away due to Covid-19 in the second wave of infections," said Dr M Venkatachalapathy, president, Karnataka state branch, IMA.