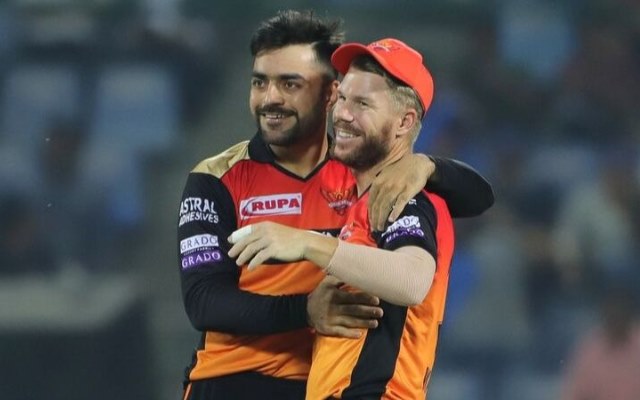 David Warner of Sunrisers Hyderabad has been a burning topic of discussion over the last week after he was replaced by England batter Jason Roy in the SRH XI against Rajasthan Royals on September 27. Not only that, Warner was not spotted at the Dubai International Stadium, the venue of the encounter, before an Instagram story on his account confirmed that he was witnessing the proceedings from his hotel room.
Later, while responding to an Instagram comment, Warner raised a plea to his fans to continue supporting him, while he, without letting out any further details, admitted that he would not be seen again for SRH. "Unfortunately, won't be again but keep supporting", his comment read in response to a user who asked about his absence from the stadium.
However, on September 30, Warner took to Instagram to post a snapshot from his practice session alongside SRH leg-spinner Rashid Khan. "My favourite challenge in the nets! Facing @rashid.khan19 #genius #cricket #magician #spin #stayhard" the post was captioned.
Hyderabad, currently sitting at the bottom of the table, snapped their five-match losing streak against the Royals, and play their next against table-toppers Chennai Super Kings on September 30, with no official update as yet on whether Warner would be included in the XI.
SRH head coach Trevor Bayliss, meanwhile, stated post-match that the management wants to give untested young reserves a chance to "experience game" and that "might continue for a few more games." Going by that, the prospects of Warner's presence against CSK are not bright.
Warner was sacked as the SRH captain earlier this year amidst a slump in his form. After being dropped against the Royals in the first half of the tournament, he was included in the team for the first two encounters in the UAE leg, in which he had scores of 0 and 2. Warner, who has 4014 runs for Hyderabad in IPL, led them to their maiden and only triumph in 2016.
With the next being a mega-auction year, it remains to be seen whether the SRH-Warner alliance will continue or break. Coach Bayliss, although, had this to say upon being asked about the same: "Look, that [Warner's future at SRH] certainly hasn't been discussed. This is the last year before the mega auction, those decisions will be made further down the line. He's been a great contributor to Hyderabad for a number of years now and he's very well-respected.
View this post on Instagram