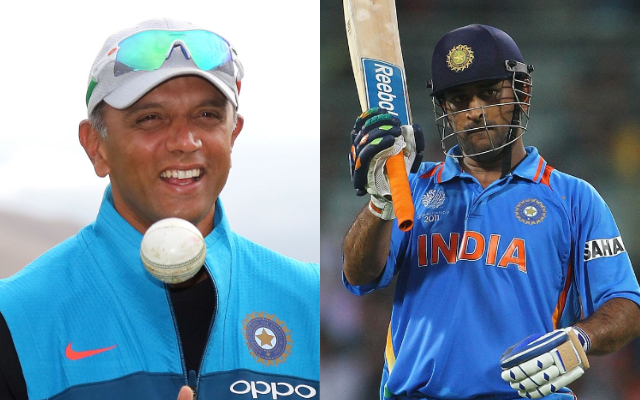 The Indian national team has had its huge share of success under the realm of head coach Ravi Shastri. However, as per reports, Shastri's tenure with the team will end soon after the T20 World Cup 2021, and any reports of further stretching his role have not come to the fore yet. In the same light of events, former chief selector stated that post-Shastri steps down, former legendary skipper MS Dhoni or former ace batter Rahul Dravid will have to step in the scenario.
Prasad added that he recently had a discussion over India's future and believes that Dhoni and Dravid have to take roles as mentor and head coach of the side. The reports have escalated after Dhoni got appointed by BCCI as a mentor of the Indian side for the T20 World Cup 2021. Besides that, Dravid has been excellent with the junior side of India and recently took charge of the team while they toured Sri Lanka in July.
"In my heart, I had this feeling. I was challenged recently by my colleagues that definitely post Ravi Bhai's era, MS has to come into the role of a mentor and Rahul Dravid as a coach. These were the discussions I had with my fellow commentators while I was doing commentary during the IPL. I had a feeling that Rahul, being the studious person that he is, will add value to Team India post-Ravi Bhai's era," MSK Prasad told Sports Tak.
Rahul as a coach, MS as a mentor going to be a boon for Indian cricket, says Prasad
Prasad further concluded that if MS Dhoni or Dravid refuse to take up the role, he will be really disappointed. Prasad also believes that the companionship of both these legendary cricketers will only take Indian cricket to laudable heights in times to come.
"Rahul as a coach, MS as a mentor is going to be a boon for Indian cricket. Both are cool and calm customers and one person is very studious and hard-working. More importantly, the number of players that are evolving right now have been groomed by Rahul, who was India A coach also. So, it is some wonderful planning that is happening. I will be very disappointed if Rahul is not going to be the coach and MS is not a mentor post this management era," Prasad added.