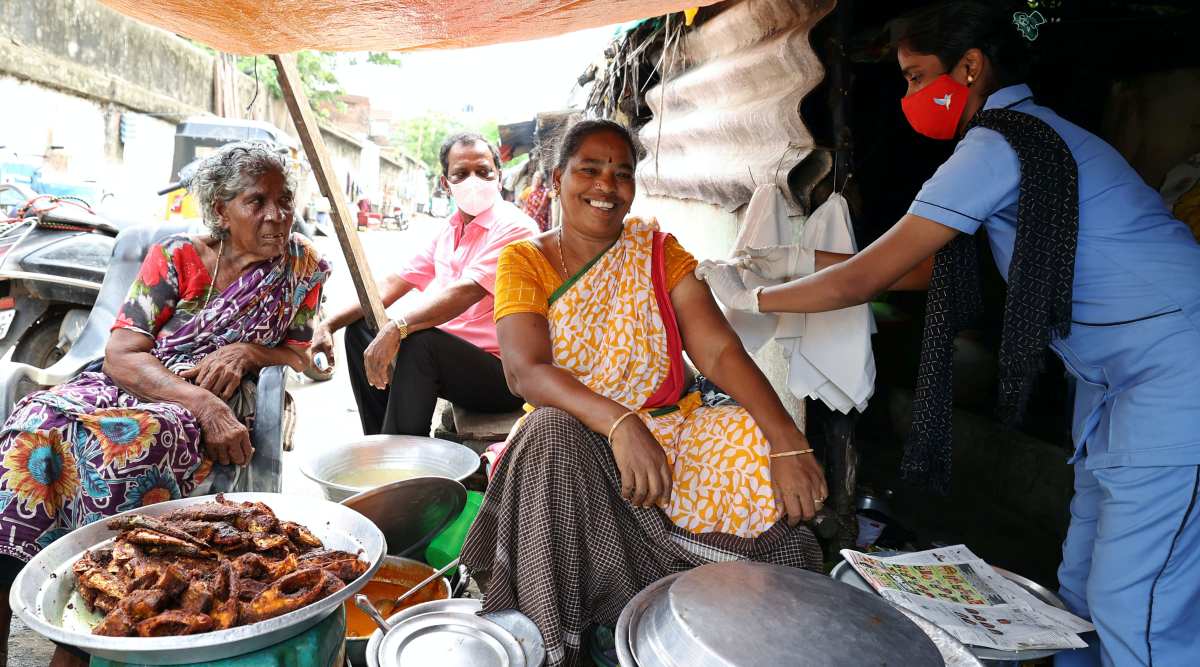 Chennai: A medic administers a dose of Covid-19 vaccine to a woman during a door to door vaccination drive, in Chennai, Friday, Oct. 8, 2021. (PTI Photo)
Tamil Nadu Chennai Live Updates: Tamil Nadu on Wednesday reported 1,280 new Covid-19 infections, and 19 deaths, pushing the caseload to 26,82,137. Recoveries outnumbered new cases with 1,453 people discharged in the last 24 hours, aggregating to 26,30,654, leaving 15,650 active infections. The fresh cases included a returnee from the United Arab Emirates. Chennai and Coimbatore accounted for the majority of new infections by adding 173 and 145 new cases, respectively, while the remaining was scattered across other districts.
Meanwhile, the ruling DMK in Tamil Nadu may have swept the rural elections held in nine reorganised districts, but a closer look at the results shows that actor Vijay – considered second only to megastar Rajinikanth in popularity charts – has taken a silent plunge into politics, through his fan club. According to the results, Vijay's fan club won 115 of the 169 seats it contested, recording a 68% strike rate.
The death of 57-year-old Govindarasu, a daily-wage labourer at a cashew processing unit owned by DMK MP TRVS Ramesh, came at the end of at least two rounds of torture on September 19, police sources said. After the case was transferred from the local police to the CB-CID, five employees of Ramesh's cashew unit in Panruti, near Cuddalore, were arrested on Saturday, October 9, while the MP surrendered on Monday. On Wednesday, a judicial magistrate court in Cuddalore granted 24-hour custody of Ramesh to the investigating agency.
Tamil Nadu Chennai Live Updates: Stat logs 1,280 new Covid-19 infections, 19 deaths; TN civic polls: DMK maintains winning streak, AIADMK alleges ruling party unleashed violence; With Tamil Nadu rural elections, actor Vijay makes a silent entry into politics; TN Governor, AIADMK leaders greet people on Vijayadasami; Follow this space for more updates