Ghislaine Maxwell accuser says flew with Prince Andrew, met Donald Trump
"When you spoke with the government in December 2019, with your lawyers there, you told the government you were not sure whether Maxwell ever touched you during these encounters, correct?" Menninger asked.
Loading
"I don't recall," Jane replied. Wearing a grey wrap-around sweater, a black dress and black boots, Jane pushed back her dark hair and took off her mask after the judge reassured her that the sketch artists could not draw her likeness.
"You told the Government you were not sure if Ghislaine ever kissed you," the defence said. "I don't recall."
"You told the Government you had no memory of Ghislaine being present when you claim Epstein engaged in any sexual contact, correct?"
"I don't recall."
Alison Moe for the government interjected with objections nearly 30 times during the cross-examination, many were sustained by Judge Alison Nathan.
Maxwell, in an olive jumper and black trousers, watched as she rubbed her arms, apparently cold. Her sister Isabel, who has been in court since the opening, was joined by brother Kevin.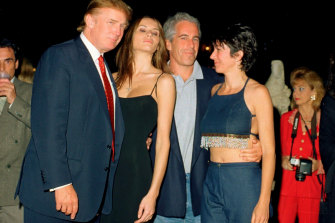 Maxwell's defence pointed to a statement Jane, who was an aspiring singer at school, gave the government about flying to New York with Epstein and Maxwell when she was 14 in 1994 to see The Lion King. However, they said she must have been mistaken as the musical did not open until 1997.
"My timeline was wrong," Jane admitted. Menninger spoke about other young women who Jane claimed were present during the abuse, including a British woman, Emmy Taylor. Taylor served as a personal assistant to Maxwell.
Loading
Taylor denies the allegations and is not expected to testify in the trial, which is set to run until mid-January.
One aspect of Ms Maxwell's defence is attempting to undermine accusers' recollection of events. Her attorneys are expected to call psychologist Elizabeth Loftus as a witness, to discuss how people can form "false memories".
The prosecution attempted to paint a picture of an alleged victim changing her story to include accusations against the British socialite only after the late financier's death in 2019.
Jane's first meeting with authorities was in late 2019. On Tuesday, Jane said she did not tell anybody about any abuse because she was "terrified" and "felt gross and ashamed".
"These memories came to you after two years?" Menninger said, insinuating she and others were scapegoating Maxwell for Epstein's crimes.
"Memory is not linear," Jane answered.
Telegraph, London
Get a note direct from our foreign correspondents on what's making headlines around the world. Sign up for the weekly What in the World newsletter here.