☑️USDCHF: continuation of the fall – Trading Ideas – 9 December 2021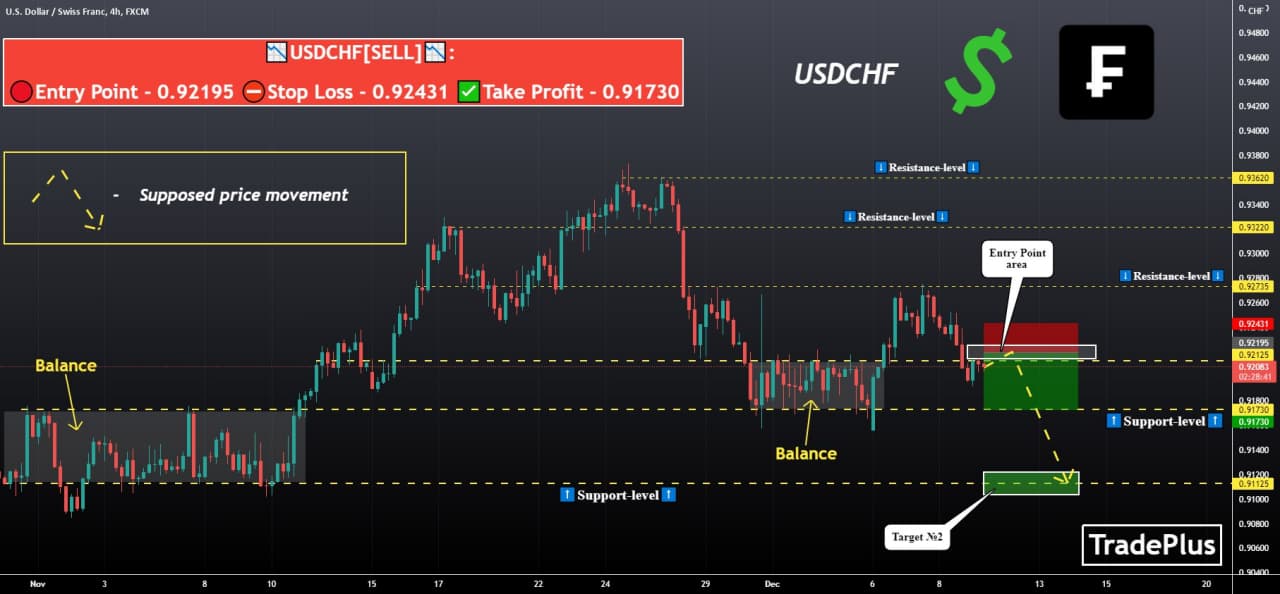 ➡️ At the time of writing this trading idea, the currency pair is trading at  0.92070. It should be noted right away that the price is below the level of  0.92125, which already speaks of the continuation of the downward movement, that began at the end of November.
Yesterday it was already noted  (trading idea for selling on the USDJPY currency pair) that, with a high degree of probability, positive factors for the US dollar have already been laid down and now, at least, one can observe a downward correction in the dollar. The franc is no exception, and a sell deal on the currency pair in question is expected. The parameters of the deal, as always, are in front of you. But it is also necessary to note the support level  0.91125, which is considered as  Target № 2. A reasonable decision would be to move the deal to breakeven after the price reaches the level of  0.91730.
🔔 Proposed deal for this tool🔔:
🔴Entry Point – 0.92195
⛔️Stop Loss – 0.92431
✅Take Profit – 0.91730
Thanks for your comments and likes 👍
👇 FIND ME 👇
 🚀Link to copy My Signals 👉 💰 TradePlus Forex Signals 💰 👈
Link to My Telegram channel 👉 ☑️ TradePlus ☑️ 👈

Link to My Twitter 👉 📨 Viktor_Vladzimirovich 📨 👈
 🏆Link to Top Broker 👉 📈 IC Markets 📈 👈
🔥 LINKS TO PREVIOUS IDEAS AND FORECASTS 🔥