Ukraine-Russia crisis: US puts 8,500 troops on alert as UK warns Moscow of 'unprecedented sanctions'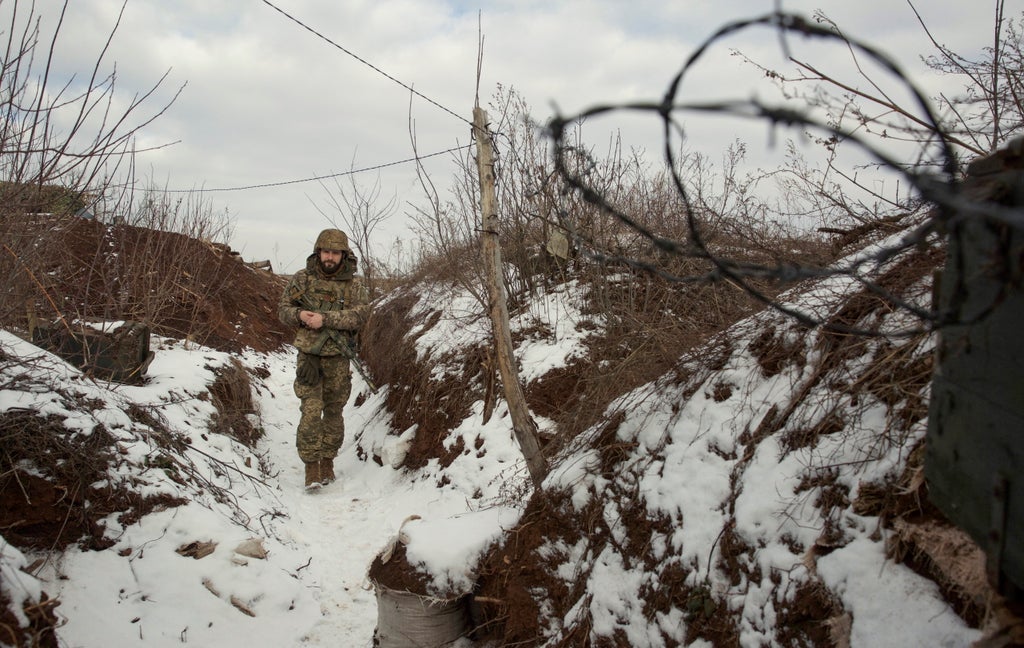 US will take 'swift and severe' action if Russia invades Ukraine, warns State Department
As many as 8,500 US troops have been put on alert for possible deployment to eastern Europe in response to Russian soldiers gathering on Ukraine's border, Pentagon spokesman John Kirby said today.
US officials have warned that Russia could launch an imminent invasion of Ukraine.
The "bulk of" the thousands of troops placed on heightened alert are planned to bolster the 40,000 multinational Nato troops already in a number of eastern European countries near the border with Russia, Mr Kirby said.
But he stressed that no final decision to deploy the troops had been made.
Nato allies have said that they are putting forces on standby and sending additional ships and fighter jets to eastern Europe.
Meanwhile, the White House press secretary Jen Psaki has said that the US government is in the process of refining its military plans for all possible scenarios in the Ukraine-Russia crisis.
She told reporters that the US "€œhas never ruled out"€ the option of providing assistance to countries on Nato's eastern flank "€œin advance of any invasion"€ of Ukraine.
1643092683
Russia deploys 20 warships in Baltic Sea for drills amid Ukraine crisis
Russia carried out large-scale military exercises in Baltic sea with a total of 20 Russian warships and ships from the Russian Baltic Fleet amid heightened tensions on its border with Ukraine and mounting pressure from the West.
"Twenty combat ships and support vessels of the Baltic Fleet have departed from their permanent bases and deployed to designated areas in the Baltic Sea for accomplishing scheduled combat training measures," the press office said in a statement on Monday.
The drills that brought together about 10,000 troops carried out anti-submarine, air defense and mine-sweeping tasks, the statement said.
The combat exercise covered seas adjacent to Russian territory in the Baltic Sea, an arm of the Atlantic Ocean, enclosed by Denmark, Estonia, Finland, Germany, Latvia, Lithuania and Poland.
The drills are being held at a time when Moscow is threatening Kyiv by deploying more than 100,000 on its border, demanding that NATO promise it will never allow Ukraine to join and that other actions, such as stationing alliance troops in former Soviet bloc countries, be curtailed.
Russia denied that it will invade Ukraine, but continues to amass troops.
Shweta Sharma25 January 2022 06:38
1643091978
Donald Trump Jr blames Russia-Ukraine crisis on 'Biden's weakness'
Former president Donald Trump's eldest son Donald Trump Jr has blamed the ongoing situation between Ukraine and Russia as a "direct result of Biden's weakness".
"Everyone knows it. Nobody pulled this nonsense with Trump in the WH. But I have to say, I wish Dems & their media pals cared as much about our southern border as they apparently do about Ukraine's eastern border," he said in a tweet.
Mr Trump Jr was making reference to his father's policies over Mexican border, referring to it as the southern border.
Shweta Sharma25 January 2022 06:26
1643089753
Those who wish to leave embassy in Kyiv can go, says Dutch foreign minister
As countries like the UK and US have ordered their staff to leave their country's embassy in Ukraine, the Netherlands ' foreign minister said those who wish to leave can go but no evacuation is not planned.
"It's a huge dilemma when you don't want to leave too early… But you also don't want to leave too late so as not to endanger your own people," Wopke Hoekstra was quoted as saying by Netherlands Broadcasting Foundation (NOS).
He said there is "no reason" for evacuation but the situation is being assessed every hour and the position might change.
Amid heightened fears of a Russian invasion of Ukraine, the US, UK, Germany, and Australia announced plans to order the evacuation of their embassies in Kyiv.
Shweta Sharma25 January 2022 05:49
1643088015
WATCH: Jen Psaki tells Americans in Ukraine 'they should leave now'
White House press secretary Jen Psaki had a clear warning for Americans in Ukraine as the crisis there escalates: "leave now."
While cautioning that American action in the country wouldn't resemble a full-scale evacuation such as in Afghanistan, Ms Psaki said the White House is still advising US civilians to leave the country.
Watch her comments below.
Josh Marcus25 January 2022 05:20
1643087560
UK and NATO countries warn Russia of 'unprecedented sanctions' over Ukraine
Russia has been warned it will be swiftly hit with an "unprecedented package of sanctions" in the event of a fresh incursion in Ukraine after Boris Johnson joined Joe Biden and world leaders to present a united front to combat a feared invasion.
"The intelligence is very clear that there are 60 Russian battle groups on the borders of Ukraine, the plan for a lightning war that could take out Kyiv is one that everybody can see," Mr Johnson said.
Read the detailed story here:
Shweta Sharma25 January 2022 05:12
1643086215
The energy angle: UK set to face record-high gas prices if Russia invades Ukraine
UK households face record-high gas bills if Vladimir Putin orders Russian forces to invades Ukraine, experts have warned.
Analysts fear that Russia, which is currently supplying around 40 per cent of Europe's gas imports, could turn off the taps if Moscow is hit with sanctions in response to military aggression.
Nato sent reinforcements to eastern Europe on Monday amid growing fears of conflict in Ukraine as Boris Johnson warned that "gloomy" intelligence suggested Russia was planning a lightning raid on Kiev. The Independent's Ben Chapman has more.
Josh Marcus25 January 2022 04:50
1643084415
Belarus hacktivists target railway in anti-Russia effort
A Belarusian hacktivist group says it has launched a limited cyberattack on the national railway company, aimed at impeding the movement of Russian troops and freight inside the Moscow-allied country. It said it encrypted some servers, databases and workstations.
The group, Belarusian Cyber Partisans, said it had disrupted the online sale of tickets in Monday's attack and was working to fix that as it did not intend to disturb regular passenger service.
Belarusian Railways said its web resources were inaccessible and online ticket sales were halted for unspecified "technical reasons." State authorities would not comment on the attack. Read the full story here.
Josh Marcus25 January 2022 04:20
1643082615
Zoom diplomacy: Biden shares photo of Ukraine chat with EU leaders
Joe Biden met for an emergency call with European leaders on Monday.
Here's an image of the conversation below.
Josh Marcus25 January 2022 03:50
1643080815
Where The Independent stands on war in Ukraine
The Ukraine crisis has been brewing for years.
In December, The Independent wrote an editorial on what the West could do to deter Vladimir Putin's designs in the region.
Read the full piece here.
Josh Marcus25 January 2022 03:20
1643079015
Former Trump official slams 'disastrous' presidency's effect on Ukraine crisis
Fiona Hill, a former member of the Trump administration National Security Council, has no love lost for her former boss and his handling of Vladimir Putin.
In a scathing op-ed in The New York Times on Monday, Ms Hill said "Donald Trump's disastrous presidency," as well as a "muted response" to Russia's provocations in Ukraine during previous administration, are to blame for bringing the region to a crisis point.
Ultimately, without strong, unified action against Russia, Ms Hill said Putin "has the United States right where he wants it" as he pursues his ultimate goal: "evict the United States from Europe.
Read the former official's full analysis here.
Josh Marcus25 January 2022 02:50
Source link