Have You Ever Worked At Some Place GREAT? Our Team Says We're THAT Place!
---
For the 12th year in a row, we're a "Best Place to Work"….and this year we are #1 in the Large Business Category!
I am so proud of the company we've built and for the ongoing recognition we receive as a small business that is part of the fabric of our community.  As you may know, we are located in the Tampa Bay region.  We have become one of the fastest-growing business communities in the country!  The competition for All Star great teammates is fierce but I am so proud of our team.
This year, the Tampa Bay Business Journal surveyed employees in the region.  We were selected again as one of the best places to work!  This year only 60 companies in the Tampa Region were selected and I am so happy to report that we are among this elite group again. Further, we are thrilled to be the #1 company in the Large Company Category and to have been on the list for the 12th time!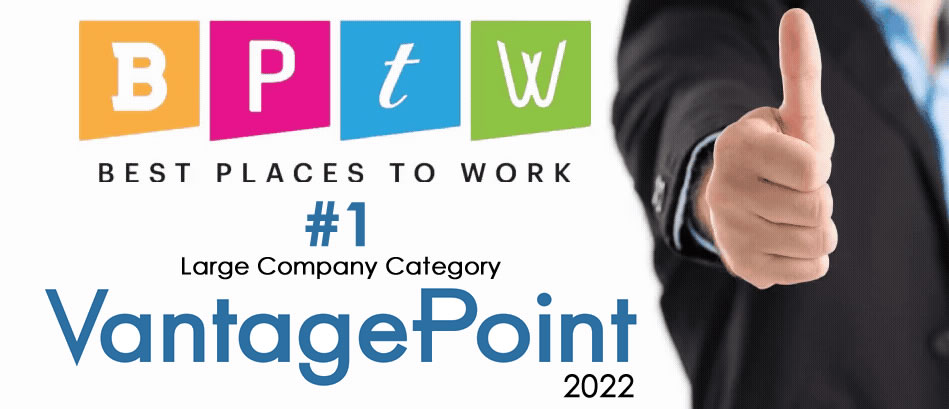 We were selected for this award based on the feedback of our team.  One of the things we are known for is our workplace culture and our dedication to our core values.  It means so much to me to know that our team is a close-knit family who loves serving our traders around the world.
The "new normal" for business has certainly required us to get creative and innovative in how we work with our diverse team.  I'm so proud of our leadership team and of everyone in the company for staying positive and creating ways to maintain our special bond. Thanks for being an integral part of our company culture too.  Our traders are like family and we love helping to empower you with the best tools in the Fintech industry.
---
If you haven't seen VantagePoint or you're ready to become part of our Vantagepoint family, join us at a free training or email us to set up a personal, one-on-one demonstration and get a free forecast for the market of your choice.
And, VantagePoint traders, if you'd like to learn even more about your software, email us or access the schedule of our online trainings available to our entire Vantagepoint family through your customer portal.