MetaTrader to NinjaTrader NT8 Trade Copier – Other – 13 May 2022
This is the user guide for 'MT4/MT5 to NinjaTrader NT8' Trade Copier EA.
This trade copier for MT4/MT5 -> NinjaTrader NT8 consists of two parts:
Trade signal transmit utility EA as you purchased from MetaQuotes Market.  Click links to MT5 version & MT4 version
Trade copier strategy app at NinjaTrader NT8
1. Please download the zip file of 'Trade copier strategy' app from here
2. At NinjaTrader NT8 menu, 'Tools' -> 'Import' -> "NinjaScript Add-On' -> select this zip file.
3. Please use a demo account for hands-on first.  
4. If you want to copy EURUSD trades to NinjaTrader, open a EURUSD chart there.  Right click the chart and select 'Strategies..'
At Strategies page, select and add Strategy 'MTNT8Copier' and then click apply.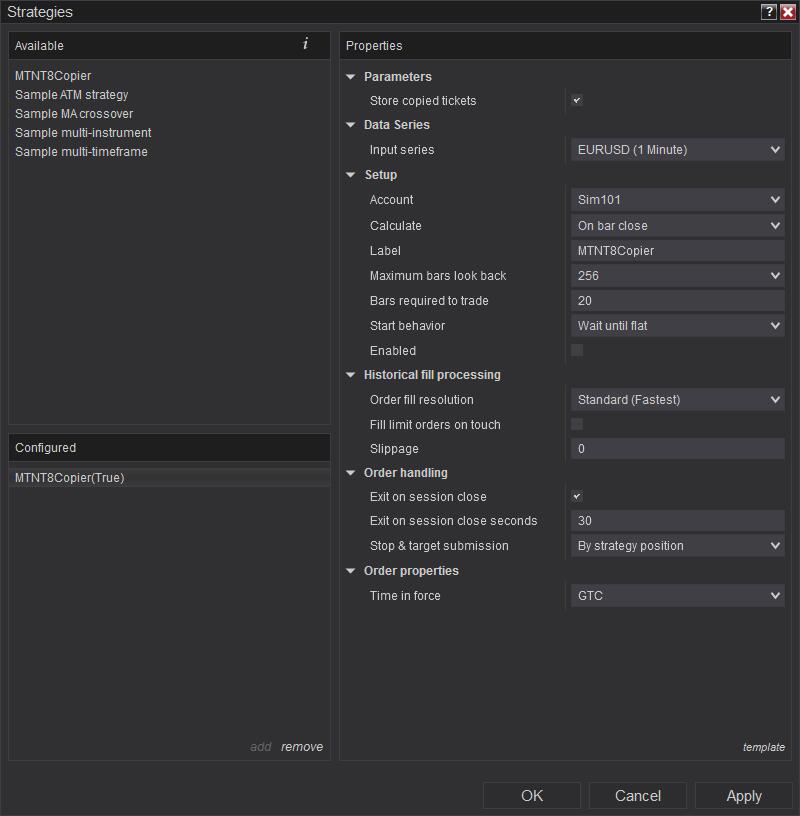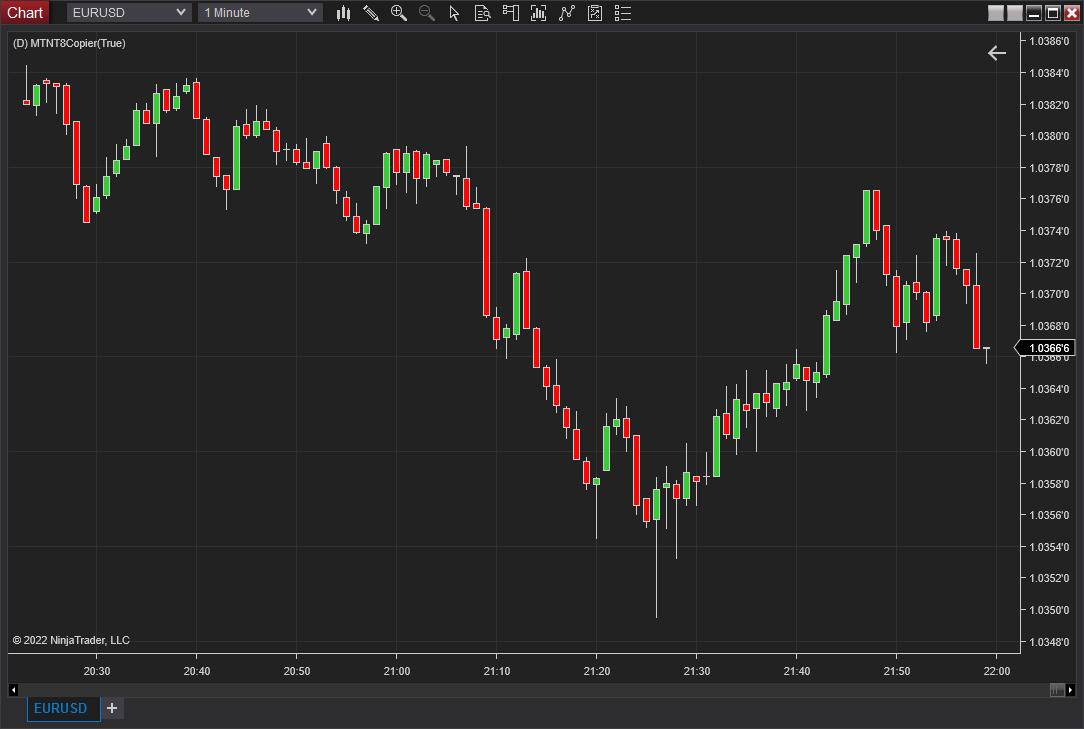 5. NinjaTrader has more restrictions on multiple instruments from different brokers. 
If you want to copy trades to more than one instrument at NinjaTrader, open that instrument chart and apply this Copier strategy again. 
For instance, if you want to copy XAUUSD trades too, open a new XAUUSD chart with this Copier strategy.
6. Click 'Enabled' at Strategy page: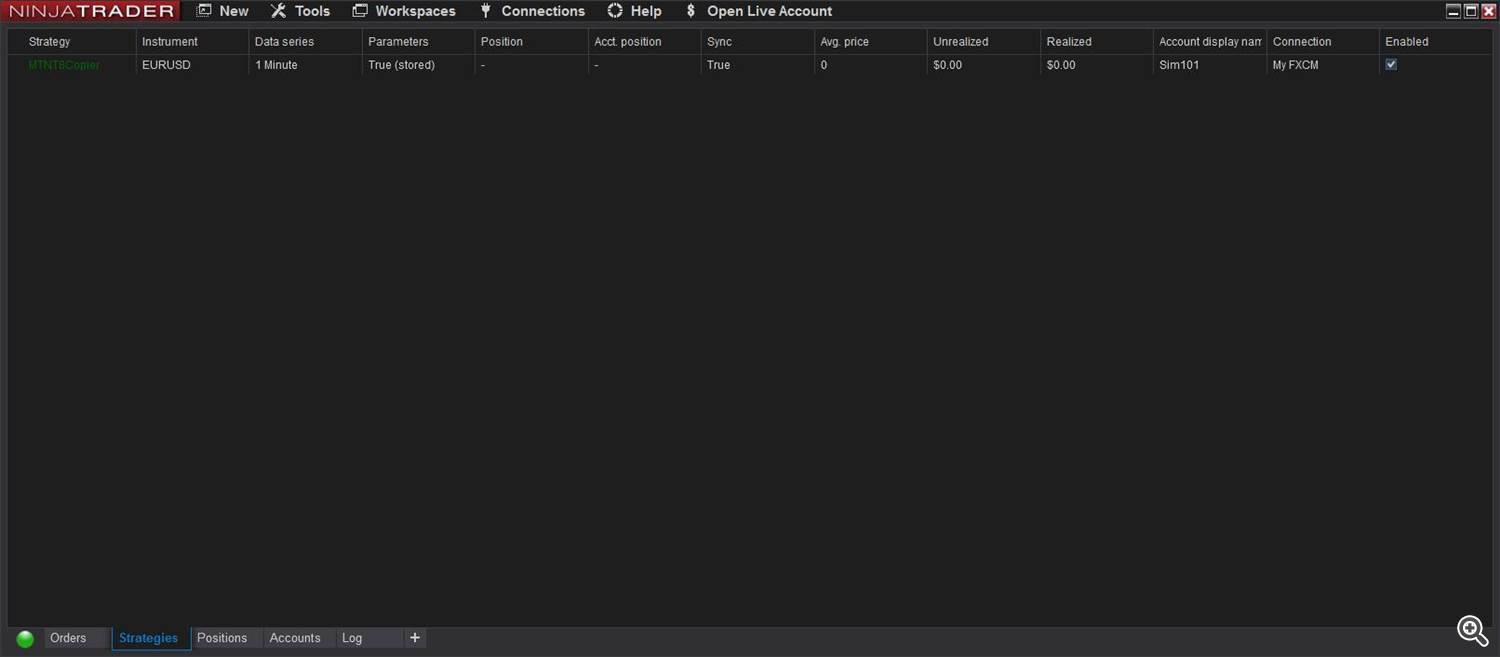 7. This Copier strategy app also auto output the log messages to NinjaTrader Output window.  For actual trade result, you could observe the order/position/log pages of NinjaTrader.

**************************************
For MT4/MT5 side, open any chart and attach the MT4/MT5 trade transmit utility EA.
Below are the EA variable explanations:
1. Symbol map list – if NinjaTrader's instrument name is different with MetaTrader's, please input as below format (MT5's symbol name first, comma, then NinjaTrader's)
BTCUSD,BITCOIN;
if two pairs,
BICUSD,BITCOIN;XAUUSD,GOLD;
2. Lot multiplier list – NinjaTrader's lot is at least one and it should be integer.  It won't take the lot of 0.01 that should be multiplied in advance.
For instance, input
EURUSD,10000;XAUUSD,1000;
If simply input
10000
All trade lots at MT4/MT5 will be multiplied by 10000.
3. Order magic number list – you could assign specific magic number for trade signalling.
For multiple magic, separate each with comma.
For instance, 3413434,1343292
Default is a blank string, i.e. applying on all trades.
4. Applicable symbol list – you could restrict to specific symbol/instruments.  Separate each with comma, e.g. EURUSD,XAUUSD,USOIL
Default is a blank string, i.e. applying on all symbols.
5. Reverse trade – if setting true, it will reverse the trade signal to NinjaTrader. 
For instance, a LONG trade will be signalled as a SHORT trade.
6. Session time – default is from 00:00-24:00
7. Alert and panel settings – that should be self explanatory.
* I also provide MetaTrader/NinjaTrader indicator and EA coding services at MetaQuotes Freelance.  You could assign me as your preferred developer for this need.
Source link