Primary elections 2022 latest: Pritzker sails to victory in Illinois while Hochul awaits fate in New York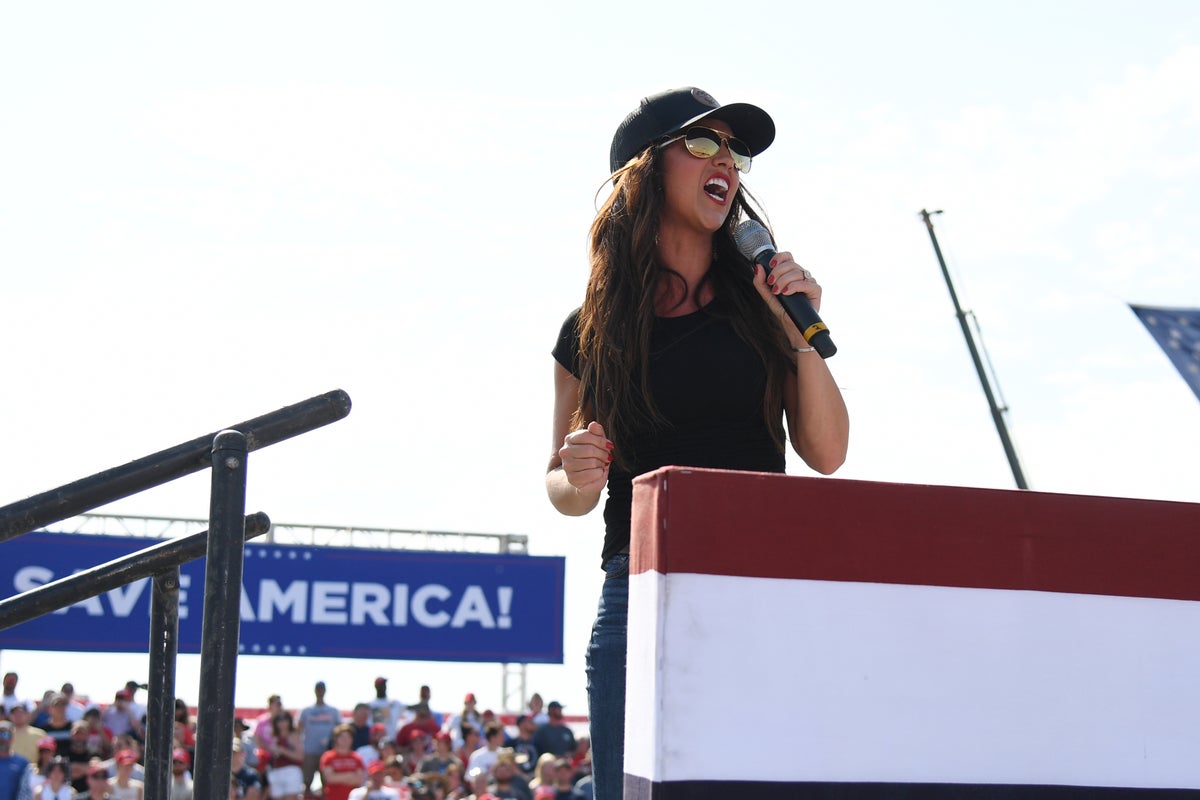 Lauren Boebert jokes Jesus didn't have enough AR-15s to save his life
Tuesday will see another wave of primary showdowns across the country as US voters turn out to make crucial decisions ahead of November's general elections.
This week's challenges include the numerous battles taking place in New York, where redistricting as well as the resignation of Gov Andrew Cuomo have brewed up a particularly interesting election season. Gov Kathy Hochul is running for her first full term should she survive her primary election tomorrow, while Republicans are set to conclude their own multi-candidate gubernatorial primary that is likely to see the defeat of Andrew Giuliani, son of ex-Trump attorney Rudy Giuliani.
Illinois will also hold a number of crucial primary contests.
Meanwhile in Colorado Rep Lauren Boebert is set to be the latest far-right Trump acolyte to face her own primary challenge; she's facing a challenge from Don Coram of the Colorado General Assembly and could potentially be in danger due to the interference of Democrats using the state's open primary system to back her opponent.
Ms Boebert is also facing a coordinated effort to dig into her past by David Wheeler, the head of the "Fire Boebert" PAC who previously led a drip-drip campaign of damaging revelations that contributed to Madison Cawthorn's primary defeat in North Carolina.
1656466611
Pritzker's efforts pay off in Illinois GOP primary
Richard Irvin, the mayor of Aurora Ill., has lost his primary to Darren Bailey, a member of the Illinois state senate. His loss is a victory for JB Pritzker, who with his allies spent around $30m to tank his campaign.
Mr Pritzker easily won renomination on Tuesday as he seek's reelection to the governor's mansion; his campaign sought to boost a candidate they saw as less electable in the GOP primary given his own dominance in the Democratic primary.
John Bowden29 June 2022 02:36
1656465932
Progressives notch victory in Illinois
The left is celebrating after progressie Delia Ramirez, a political newcomer, defeated a Chicago alderman for the Democratic Party's nomination for the newly-drawn 3rd congressional district of Illinois.
Ms Ramirez was endorsed by Rep Alexandria Ocasio-Cortez, who celebrated news of Ms Ramirez's victory by a wide margin Tuesday evening.
John Bowden29 June 2022 02:25
1656463068
JB Pritzker blasts to victory in Illinois
Few candidates tonight will be able to say they took home the margin that JB Pritzker will see once all the votes are in.
With 10 per cent of the vote counted, the incumbent Democratic governor was declared the winner of his primary thanks to a comforable 89,000-vote lead he held over rival, Beverly miles. That margin will likely change before the end of the night, but it's still impressive.
On the Republican side there was more good news for the governor. Darren Bailey led Aurora Mayor Richard Irvin by more than 20 per cent with 5 per cent of votes counted; Mr Pritzker and his allies spent heavily to sink the mayor's campaign in the hopes of facing a candidate they viewed as less-electable in a general election matchup.
John Bowden29 June 2022 01:37
1656462504
James Lankford easily wins GOP nomination in Oklahoma
Despite facing a primary challenger backed by the state Republican Party chairman, Sen James Lankford appears to have easily won his party's renomination to the US Senate. He's likely to win a general election given Oklahoma's deep-red bent.
With just 6 per cent of the vote in, Mr Lankford had a comfortable 23,000 vote lead over his nearest opponent, Jackson Lahmeyer.
The state's governor, Kevin Stitt, also appears to have won his own primary for reelection.
John Bowden29 June 2022 01:28
1656462118
Polls close in Illinois, Mississippi, Oklahoma
Results are coming in as polls closed in three additional states at 8pm est. Follow Oklahoma election results here at local news affiliate KJRH 2:
John Bowden29 June 2022 01:21
1656460034
Results begin trickling in as South Carolina votes counted
The first precincts are beginning to report results in South Carolina's primary. Krystle Matthews has a lead over Catherine Bruce, with just 3 per cent of the overall vote reporting.
Follow results live via NBC affiliate WYFF:
John Bowden29 June 2022 00:47
1656455582
First polls set to close soon
Polls are set to begin closing in a few key races soon as voters conclude casting ballots in eight states.
Voting ends in South Carolina's US Senate runoff election to select the Democratic candidate to challenge Sen Tim Scott at 7pm. Catherine Bruce and Krystle Matthews are facing each other in a runoff election; Ms Matthews is a member of the state House of Representatives, while Ms Bruce is an author with no experience holding a political office.
John Bowden28 June 2022 23:33
1656450011
New York governor pushes efforts to strengthen abortion rights in attempt to hold on to office
New York Democratic Governor Kathy Hochul is pushing her state's efforts to strengthen abortion rights as she campaigns to hold on to the office after replacing former Governor Andrew Cuomo in August of last year.
"New York passed a series of laws to strengthen abortion rights in advance of the Roe decision, and … Hochul has highlighted the state's efforts in a series of ads in the run-up to her primary against Long Island Rep Tom Suozzi and New York City Public Advocate Jumaane Williams," New York Editor Joseph Spector said in Monday's Politico Nightly.
"Hochul is a big favorite in the race, and she is expected to use a big win as a springboard for the November elections — when she would look to be the first elected woman governor in state history," he added. "If she wins the primary, she could face a Republican foe who does not support abortion. Out of the four GOP candidates running in their own primary Tuesday, only businessman Harry Wilson supports abortion rights, and he is an underdog.
"So if Wilson loses, protecting abortion rights in New York is likely to be a major topic, particularly for Hochul in the coming months."
Gustaf Kilander28 June 2022 22:00
1656446411
Winner of Republican primary likely to replace retiring Oklahoma senator
The two Republican primaries in Oklahoma on Tuesday are both likely to go to runoffs to be decided on 23 August.
In the special election to replace retiring GOP Senator Jim Inhofe, the winner is likely to become the next senator because the state is deeply red.
The other Republican Senator from the state, James Lankford, looks likely to retain his seat.
The frontrunner to replace Mr Inhofe is Rep Markwayne Mullin. He's managed to garner the largest campaign war chest – $3m.
In two recent polls, Mr Mullin received almost 40 per cent of the vote, according to FiveThirtyEight.
He voted against certifying the 2020 election in support of former President Donald Trump's false claims of fraud and tried to enter Afghanistan last year to evacuate a group of Americans as the US was withdrawing its troops from the country.
Gustaf Kilander28 June 2022 21:00
1656442811
Pro-choice Republican running to unseat Democratic Senator from Colorado
In the Republican primary for Colorado senator, businessman Joe O'Dea is the choice of the establishment.
"He says he supports abortion rights — rare for a Republican, but an electoral asset in a state that's become a Democratic stronghold," chief polling analyst Steven Shephard said in Monday's Politico Nightly. "It's one of the reasons why Democrats have meddled in the primary to elevate O'Dea's more extreme opponent, state Rep Ron Hanks, who opposes the right to an abortion in all circumstances. A Democratic-linked outside group has spent just shy of $4 million on ads that either trumpet Hanks' right-wing credentials or attack O'Dea's, seeking either to bruise O'Dea ahead of a matchup with Democratic Sen Michael Bennet — or deny O'Dea the nomination entirely."
Gustaf Kilander28 June 2022 20:00
Source link