Booker Prize-winning author of the acclaimed "Wolf Hall" saga died age 70
The final instalment, "The Mirror and the Light," was published in 2020.
Harry Potter author JK Rowling tweeted that "we've lost a genius" following Mantel's passing.
Scottish First Minister Nicola Sturgeon said it was "terribly sad news".
"It is impossible to overstate the significance of the literary legacy Hilary Mantel leaves behind. Her brilliant Wolf Hall trilogy was the crowning achievement in an outstanding body of work. Rest in peace," Sturgeon said.
Mantel turned Cromwell, a shadowy political fixer, into a compelling, complex literary hero. Cromwell was an architect of the Reformation who helped the king realise his desire to divorce Catherine of Aragon and marry Anne Boleyn. The Vatican's refusal to annul Henry's first marriage led the monarch to reject the authority of the pope and install himself as head of the Church of England.
It's a period of history that has inspired many books, films and television series, from "A Man for All Seasons" to "The Tudors." But Mantel managed to make the well-known story new and exciting.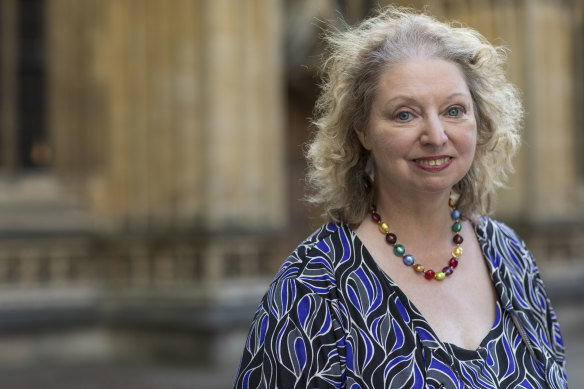 Nicholas Pearson, Mantel's longtime editor, said her death was "devastating."
"Only last month I sat with her on a sunny afternoon in Devon, while she talked excitedly about the new novel she had embarked on," he said. "That we won't have the pleasure of any more of her words is unbearable. What we do have is a body of work that will be read for generations."
Her agent at literary agency AM Heath, Bill Hamilton, said Mantel, who spoke of suffering long-term pain and fatigue caused by endometriosis, had dealt "courageously" with chronic health problems.
Mantel also wrote a memoir, "Giving up the Ghost," that chronicled years of ill-health, including undiagnosed endometriosis that left her infertile.
"Her biting wit, stylistic daring, creative ambition and phenomenal historical insight mark her out as one of the greatest novelists of our time," Hamilton said.
Before "Wolf Hall," Mantel was the critically acclaimed but modestly selling author of novels on subjects ranging from the French Revolution ("A Place of Greater Safety") to the life of a psychic medium ("Beyond Black").
Mantel studied law and first worked as a social worker. She turned to writing fiction while living in Botswana for five years with her geologist husband Gerald McEwen.
The pair divorced, a split Mantel attributed to her illness and the infertility caused by treatment she received for it, but later remarried.
Mantel also lived in Saudi Arabia for four years, returning to Britain in the mid-1980s. Her first novel, "Every Day is Mother's Day", was published in 1985. In total, she wrote 17 books, including non-fiction work.
British journalist and feminist author Caitlin Moran also paid tribute on Twitter, describing Mantel's mind as "one of the most powerful and magic machines on Earth".
"We were lucky she wrote as much as she did, but holy hell, it's devastating that we've collectively lost something so astonishing," she said.
The Morning Edition newsletter is our guide to the day's most important and interesting stories, analysis and insights. Sign up here.
With AP, Reuters
Source link