Ukraine war breaking news today: Russia-held territories begin voting to break away from Kyiv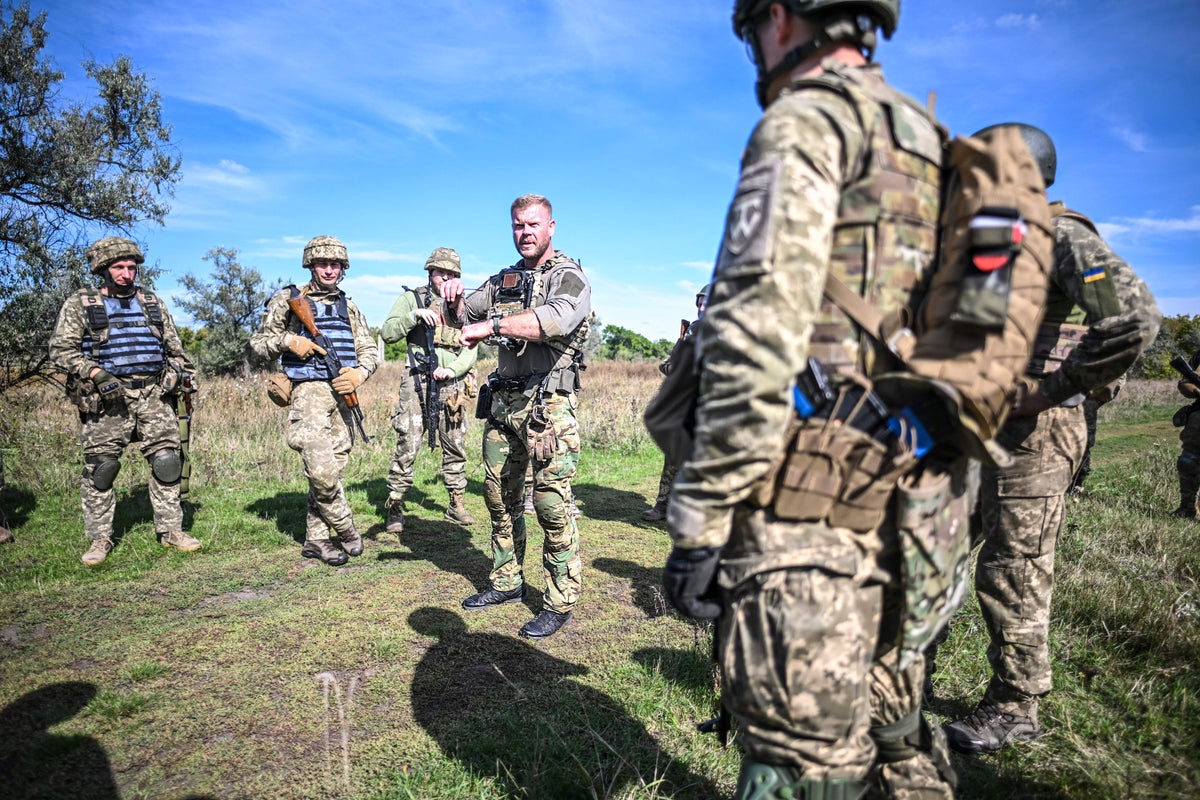 Full speech: Zelensky tells UN Ukraine is ready for 'true, honest and fair peace'
Four Russia-backed territories in Ukraine, amounting to around 15 per cent of the besieged country, have opened voting in referendums today to break away from Kyiv.
The referendums, denounced as a Moscow-led "sham" by the world leaders at the United Nations General Assembly this week, will run from today to Tuesday.
Analysts fear Putin will use annexation of the territories into Russian federation to escalate its military offensive against Ukraine.
One day after Vladimir Putin announced the partial military mobilisation of men in Russia's reserve forces, some 10,000 volunteers have reportedly enlisted without even waiting for their call-up papers, the Russian General Staff said.
But there are also reports of attempts to flee a potential call-up, with prices for one-way flights out of Moscow to the nearest foreign locations rising above $5,000 (£4,440), with most air tickets sold out completely.
And late on Thursday, the Russian foreign minister walked out of the UN Security Council after accusing Ukraine of Russophobia and neo-Nazism.
1663913709
Russia referendums: Moscow-held regions of Ukraine vote whether to join Russia
Voting has begun in Moscow-held regions of Ukraine on referendums to become part of Russia, Russian-backed officials there said.
The Kremlin-orchestrated referendums, which have been widely denounced by Ukraine and the West as shams without any legal force, are seen as a step toward annexing the territories by Russia.
The votes are being held in the Luhansk, partly Russian-controlled Zaporizhzhia and Donetsk regions. In Kherson, which is almost fully controlled by Moscow, the balloting was also expected to get underway on Friday morning.
The vote, which asks residents if they want their regions to be part of Russia, is certain to go Moscow's way.
That would give Russia the pretext to claim that attempts by Ukrainian forces to regain control are attacks on Russia itself, dramatically escalating the 7-month-old conflict.
The referendums follow President Vladimir Putin's order of a partial mobilization, which could add some 300,000 Russian troops to the fight.
Polls also opened in Russia, where refugees from the occupied regions can cast their votes.
Denis Pushilin, separatist leader of Moscow-backed authorities in the Donetsk region, called the referendum on Friday "a historical milestone."
Maryam Zakir-Hussain23 September 2022 07:15
1663912835
'Britain needs a strategy for standing with Ukraine – for as long as it takes'
A long-term strategy will reassure Ukrainians and send an unequivocal message to Putin that Britain will stand with Ukraine for as long as it takes to see off Russian aggression, writes John Healey, the shadow defence secretary and Labour MP for Wentworth and Dearne.
Such a plan would be the best response to Russia's latest escalation in rhetoric, and the best way Britain can help ensure Ukraine wins and Putin's invasion really does end in failure, he writes.
Read the full article here:
Read the full story here:
Opinion: Britain needs a strategy for standing with Ukraine – for as long as it takes
This is the best response to Russia's latest escalation in rhetoric, and the best way we can help ensure Putin's invasion really does end in failure
Arpan Rai23 September 2022 07:00
1663911478
Ukraine putting pressure on territory critical to Russia – British MoD
Ukraine is now adding pressure on Moscow by fighting for territory seen as critical to Russia, the British defence ministry said today.
"The battlefield situation remains complex, but Ukraine is now putting pressure on territory Russia considers essential to its war aims," the MoD said in its latest intelligence update on the war in Ukraine.
It added: "In the last three days, Ukrainian forces have secured bridgeheads on the east bank of the Oskil river in Kharkiv oblast.
Russia has attempted to integrate the Oskil into a consolidated defensive line following its forces' withdrawal earlier in the month."
"To the south, in Donetsk oblast, fighting is ongoing as Ukrainian forces assault the town of Lyman, east of the Siverskyy Donets river, which Russia captured in May," the ministry added.
Arpan Rai23 September 2022 06:37
1663910990
Ukraine presses ahead with offensive against Russia
Ukrainian troops continue to advance their military counteroffensive against Russia, claiming this resulted in "losses" among Moscow's military leadership.
A shelling attack by Ukraine wounded a Russian general in the Luhansk region, the Ukrainian general staff said today.
"The enemy continues to suffer losses, in particular among the leadership," it said on Friday.
Russia has reportedly lost several high-ranking commanders during the seven-month war.
Ukrainian soldiers have repelled Russian attacks in the areas of Kupyansk, Spirne, Mayorsk, Zaitseve, Avdiivka, Novomykhailivka, Opytne and Kamianka settlements, the official added.
Arpan Rai23 September 2022 06:29
1663909333
Referendum begins in Ukraine's separatist regions today
Four regions in Ukraine occupied by Russian-backed forces will start voting Friday in referendums led by the Kremlin seeking to become a part of Russia.
The voting process is spread out over five days and will take place in the absence of independent monitors, amid widespread concern that the result will be rigged in favour of Russia.
If Moscow gains these territories — cumulatively amounting to around 15 per cent of Ukraine — by next week, Moscow is expected to annex these areas and intensify its military offensive against Ukraine from there.
Volodymyr Zelensky has called the referendums "noise" to distract the public.
Arpan Rai23 September 2022 06:02
1663904791
18 Russian soldiers killed, howitzers and tanks destroyed – Ukraine military
Ukrainian troops killed 18 Russian troops, officials from the country's southern operational command said in the latest war update.
At least 18 Russian troops were killed, and three Msta-S and Msta-B howitzers, two tanks, and two armored vehicles were destroyed on Thursday, the military unit said, reported The Kyiv Independent.
Arpan Rai23 September 2022 04:46
1663903359
Russia's mobilisation move shows its regular army crumbled – Zelensky
Volodymyr Zelensky has said Vladimir Putin's decision to announce partial mobilisation in Moscow is a "frank admission" of the Russian army's failure in its war against Ukraine.
"Russia's decision on mobilisation is a frank admission that their regular army, which has been prepared for decades to take over a foreign country, did not withstand and crumbled," he said in his nightly address on Thursday.
The war has swept into every Russian's home, he added.
"And now, due to mobilisation, Russia's war against Ukraine for the majority of Russian citizens is not something on TV or on the Internet, but something that has entered every Russian home," Mr Zelensky said.
Arpan Rai23 September 2022 04:22
1663899000
Britons home with families after 'traumatic experience'
In case you missed it: Britons released by Russian-backed forces in Ukraine thanked supporters as they flew back to Britain. All five have now all returned home:
Britons held by Russian forces in Ukraine arrive home after 'traumatic experience'
Five Britons were part of the prisoner swap
Jane Dalton23 September 2022 03:10
1663896000
Tearful farewells for Russian reservists and families
Families have bid a tearful farewell to men leaving from military mobilisation centres in Russia. Video footage from the eastern Siberian city of Neryungri showed men emerging from a stadium. Before boarding buses, they hugged family members waiting outside, many crying and some covering their mouths with their hands in grief.
A man held a child up to the window of one bus for a last look. In Moscow, women hugged, cried and made the sign of the cross on men at another mobilisation point.
A 25-year-old who gave only his first name, Dmitry, received a hug from his father, who told him "Be careful," as they parted. Dmitry told Russian media company Ostorozhno Novosti he did not expect to be called up and shipped out so quickly, especially since he still is a student. "No one told me anything in the morning. They gave me the draft notice that I should come here at 3 pm. We waited 1.5 hours, then the enlistment officer came and said that we are leaving now," he said. "I was like, 'Oh great!' I went outside and started calling my parents, brother, all friends of mine to tell that they take me."
Jane Dalton23 September 2022 02:20
1663893000
How Western allies helped secure Britons' release
Months of secret international negotiations lay behind the release of captured British and Ukrainian fighters.
Also released were more than 200 fighters from the Azov Battalion.
In return, Moscow received 55 prisoners, including Vladimir Putin's friend Viktor Medvedchuk, writes Kim Sengupta:
How Western allies helped secure release of Britons captured in Ukraine
Saudi Arabia's crown prince and others played a role in the key prisoner swap, explains Kim Sengupta
Jane Dalton23 September 2022 01:30
Source link