Germany finally announces tanks for Ukraine after weeks of pressure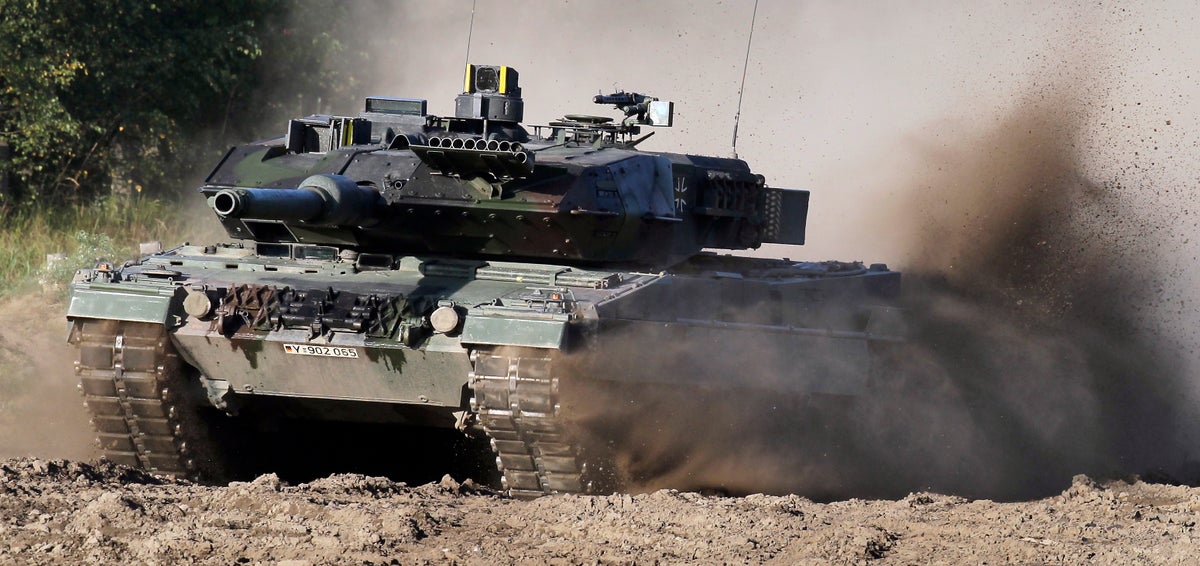 Germany has finally announced it is sending tanks to Ukraine that Kyiv says it desperately needs to fight Russia's invasion.
Berlin will provide 14 Leopard 2 tanks from military stocks as a first step, a statement from the German government said. Training of Ukrainian troops in Germany will begin soon, with logistics support and ammunition part of the package.
Chancellor Olaf Scholz had come under huge international pressure to approve the use of German-made Leopard 2 tanks, with nations requiring permission from Germany to re-export those in their own armies. The statement paves the way for other countries such as Poland, Spain and Norway to supply their stocks of Leopard 2 tanks to Ukraine.
Follow the latest in our live blog here
"This decision follows our well-known line of supporting Ukraine to the best of our ability. We are acting in a closely coordinated manner internationally," Mr Scholz said in a statement. Berlin said the goal is to quickly establish two battalions with Leopard 2 tanks for Ukraine.
Ukraine's President Volodymyr Zelensky has said such heavy tanks are crucial to replenish his nation's military hardaware ahead of what he believes will be increased Russian offences towards the spring – with intense fighting having already been taking place in eastern Ukraine for weeks. Kyiv says it needs to give its forces the firepower and mobility to break through Russian defensive lines and recapture territory that Moscow's forces have taken. The tank is regarded as one of the West's best and can hit targets at a distance of up to five km, an upgrade on the capabilities of the Soviet-era tanks Ukraine is currently relying on.
More than a dozen countries in Europe possess Leopard 2, believed to be the tanks most suitable to send to Kyiv given their proximity and specifications. Ukraine's neighbour Poland has said it is ready to send at least 14 Leopard 2 and a number of other European nations, including Finland, have suggested they are open to sending a number of Leopard 2s as part of a wider coalition. The UK has already pledged to send 14 of its own Challenger 2 tanks.
The prime minister, Rishi Sunak welcomed Germany's decision to supply Leopard 2 tanks to Kyiv, saying that alongside the UK's Challenger 2s "they will strengthen Ukraine's defensive firepower".
Poland's prime minister, Mateusz Morawiecki said: "The decision to send Leopards to Ukraine is a big step towards stopping Russia."
Ukraine has said that it would like up to 300 tanks. It unlikely that Kyiv will get quite that number, and with the logistics involved, as well as the need to train Ukrainian troops to use the tanks, it would be many weeks until they can line up on the batlefield. However, given the number of nations that hold Leopard 2s, Kyiv will be hopeful of pledges of more than 100 tanks.
Officials in Kyiv hailed what they see as a possible gamechanger in a war that is now 11 months old. President Volodymyr Zelenksiy's chief of staff, Andriy Yermak, has welcomed the news, but said more needed to be done. "The first tank step has been taken," he posted to Telegram. "Next is the 'tank coalition'. We need a lot of Leopards."
Mr Zelensky, who turned 45 on Wednesday, again pressed Western allies to provide their most modern battle tanks, saying "the need is larger" in his nightly video address on Tuesday night.
Germany has been wary of provoking an escalation by Russia by announcing the exporting of tanks, which has led to weeks of cajoling from Western allies and members of Mr Scholz's colaition government. That pressure intensified greatly in recent days. Berlin had suggested that any decision over tanks would have to be part of a wider coalition, perferably including the US. That would provide Germany the political cover to not be the main focus of ire from Moscow.
Washington is expected to announce that it will send M1 Abrams tanks as soon as Wednesday, although they do not run on diesel like the Leopards 2s and will require more training to use. "The battle tanks strengthen Ukraine against Putin. It is an important step that the USA participates alongside the Leopard. German diplomacy has contributed to this togetherness," the German finance minister, Christian Lindner, said.
Russia has warned that supplies of modern offensive weaponry to Ukraine would escalate the war, with some officials saying its allies were leading the world into a "global catastrophe".
Deliveries of battle tanks by the United States would be a "another blatant provocation", Russia's US ambassador, Anatoly Antonov, said.
"It is obvious that Washington is purposefully trying to inflict a strategic defeat on us," Mr Antonov said in remarks published on the embassy's Telegram messaging app. "American tanks will be destroyed by our military in the same way all other samples of Nato equipment are being destroyed".
The Russian embassy in Germany claimed that the Leopard 2 decision meant Germant was abandoning its "historical responsibility to Russia" arising from Nazi crimes in the Second World War. "It takes the conflict to a new level of confrontation and contradicts the statements of German politicians about the unwillingness of the Federal Republic of Germany to be drawn into it," Ambassador Sergei Nechayev said.
Frontlines, stretching across more than 1,000 km (620 miles) through eastern and southern Ukraine, have been largely frozen for two months despite heavy losses on both sides. Russia has claimed some advances during the past two weeks. Mr Zelensky said that Russia was intensifying its push toward Bakhmut, an industrial town in eastern Ukraine that has been the focus of intense fighting as Moscow looks for a route to take more of the regions of Donetsk and Luhansk it craves. "They want to increase the pressure," the Ukrainian president said.
Analysts at the Washington-based Institute for the Study of War said in a report that the West had "contributed to Ukraine's inability to take advantage of having pinned Russian forces in Bakhmut by slow-rolling or withholding weapons systems".
Reuters contributed to this report