Russian reinforcements pour into eastern Ukraine, says governor
On Sunday, David Arakhamia, head of Zelenskiy's parliamentary bloc, said Reznikov would be transferred to another ministerial job, but on Monday he wrote that "there will be no personnel changes in the defence sector this week".
Loading
Zelensky said he needed to show that Ukraine was a safe steward of billions of dollars of Western military and other aid, and his government was engaged in the biggest political and administrative shake-up since Russia's invasion nearly a year ago.
"In a number of regions, particularly those on the border or on the front line, we will appoint leaders with military experience. Those who can show themselves to be the most effective in defending against existing threats," he said.
The European Union said Zelensky has been invited to take part in a summit of EU leaders, amid reports he could be in Brussels as soon as this week, in what would be only his second known foreign trip since the invasion began. Zelensky's office did not respond to a request for comment.
New Russian offensive
Russia launched five missile and 12 air attacks as well as 36 shelling incidents over a 24-hour period, hitting southern targets such as Kherson, the General Staff of the Ukrainian Armed Forces said in a Monday evening statement.
Ukrainian aircraft launched nine strikes on areas of concentration of Russian forces and two anti-aircraft positions, it said. Reuters could not immediately verify battleground reports.
Ukrainian defence analyst Oleksandr Kovalenko said a new Russian offensive could come from one of four directions; the eastern Luhansk region, the Donetsk region, the Zaporizhzhia region and the city and port of Mariupol.
"Things are more serious in Donetsk region, particularly around Bakhmut and Avdiivka. And the Russians will be boosting their contingents there as well as equipment and paratroops," Kovalenko, from the Information Resistance Group think tank, told Ukrainian radio NV.
For months Russia's main target in eastern Ukraine has been Bakhmut, where its state media said the Wagner mercenary group had gained a foothold. Ukraine said on Monday evening that Russian forces had trained tank, mortar and artillery fire there in the past 24 hours.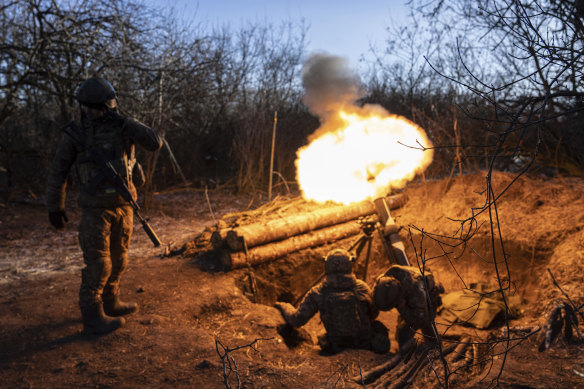 Kovalenko said Mariupol, captured by Russian forces last May, could be used by the Russians to bring in troops and equipment for a new offensive.
"It could serve as a transport hub for the Russian occupation forces," he said.
Kovalenko said Ukraine's counter-offensive would not happen any time soon and Ukrainian forces would be assuming a defensive position, particularly in Donetsk.
"It may be an active defence, but a defensive position nonetheless. The idea will remain to block any Russian advance," he said.
"Things could change more quickly in other sectors. But this situation could go on for two to two-and-a-half months – that is the time required for providing the tanks for brigades, training and getting everything outfitted."
Reuters