Arthur Sinodinos says US President Joe Biden should run again
But as someone who has had the chance to observe Biden up close, he does not subscribe to the view shared by some: that the president, who is now 80 and considering another four-year term, is in cognitive decline.
"I've seen him conduct two-hour briefings with leaders, like at the Pacific Island summit, and he is totally in control and on top of his brief," he says.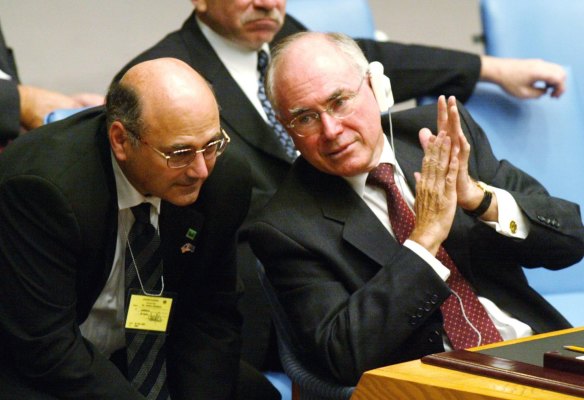 "For someone who people keep underestimating, look at what happened in the midterms. Look at what's happened in terms of passing bipartisan legislation."
"I'm not surprised that he's thinking about running again, because he believes he's best placed to counter those who might undermine democracy in this country."
Sinodinos also gave an insight into Biden's relationship with Anthony Albanese, who joined the president and British Prime Minister Rishi Sunak in San Diego last week to unveil the pathway for AUKUS, the $368 billion plan to help Australia acquire eight nuclear-powered submarines.
The pair "clearly hit it off" over their shared Irish lineage and working-class backgrounds, he said: Biden from the former mining town of Scranton, Pennsylvania; Albanese from a single-parent household in Camperdown in inner-western Sydney.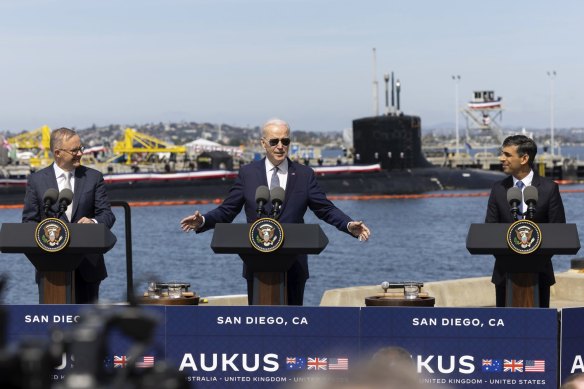 Is he concerned that a future administration could renege on the deal, particularly under an isolationist leader like Trump, whose agenda is to put "America First" and halt what he describes as "endless wars"?
"No, I'm pretty convinced from what I've seen in DC that both sides of politics support doing this because, like us, they've seen the way the geostrategic circumstances have evolved in the region," he says.
Loading
AUKUS nonetheless has ongoing challenges, from the maze of US export controls that could prevent the plan from becoming a reality; to the blistering attacks of former Labor prime minister Paul Keating, who described AUKUS as the "worst deal in all history" and "the worst international decision" by a Labor government since Billy Hughes tried to introduce conscription.
Asked what he thought of Keating's comments, Sinodinos diplomatically replied: "I share the government's assessment about the strategic situation."
"Having sent this signal I think as a nation, we can't afford to go back to the drawing board," he added. "We have to proceed."
While AUKUS was one of the hallmarks of Sinodinos' term as Australia's ambassador, he cites a trip to Florida to give Bee Gees' singer Barry Gibb his Order of Australia as a "personal highlight".
The ambassador has also hosted his share of dignitaries and world leaders over the years – including a very talkative then British prime minister Boris Johnson as the two countries were attempting to iron out the details of a Free Trade Agreement.
Sinodinos recalls the conversation reaching a sticking point over carcass bones, and whether they should be included in the weight of meat exports.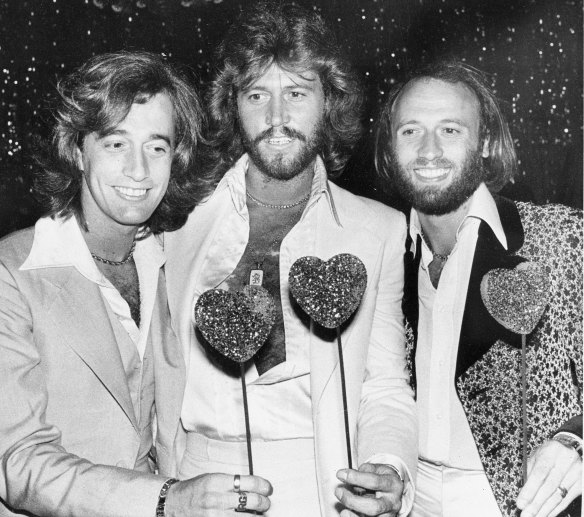 "I remember we went around the mulberry bush for about 20 minutes on this and just when you thought you had Boris pinned down, he would escape!" he says.
"The next day I was asked by someone: 'Did we make progress on the free trade route?' And I said: 'for the life of me, in the end, I couldn't work out where we got to'."
Loading
A new chapter in diplomacy begins this week, when Rudd, until now the president of the Asia Society, becomes the first former Australian prime minister to take the post of US ambassador.
Does Sinodinos have any advice for his successor? When Hockey departed, for instance, he left a letter advising Sinodinos to be his own boss and encouraging him to think about what Australia could bring to the table to deepen its engagement with the US.
Sinodinos says the advice he's given Rudd is much the same: "Be ambitious for the relationship".
"Kevin has a background in China issues which I think will be very useful in this town, and I think generally, having been a former PM, foreign minister and think-tanker, he's got a great network to bring to the table. Leveraging that network for Australia's benefit will be all for the good."
As for Sinodinos, it's still not certain what comes next in his distinguished career. He will remain in the US with his family for now, where one of his children is still attending university, but adds: "For the first time in a long time, the trajectory of what I'm doing isn't really clear. I approach that with a mixture of excitement and trepidation."
Get a note directly from our foreign correspondents on what's making headlines around the world. Sign up for the weekly What in the World newsletter here.