To extend or not to extend the life of coal-fired power stations, that is the question – The Mail & Guardian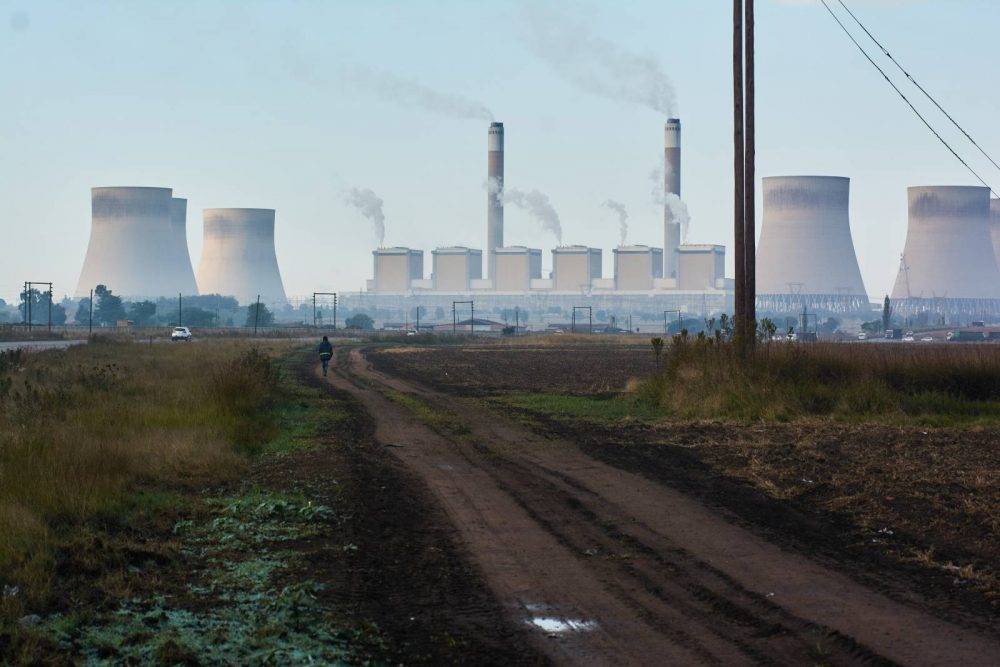 A pedestrian walks through a field, backdropped by the Eskom Holdings SOC Ltd. Kendal coal-fired power station in Mpumalanga, South Africa, on Friday, May 5, 2023. (Waldo Swiegers/Bloomberg via Getty Images)
Should or should we not extend the life of our coal-fired power stations? 
We all know how divisive coal can be. Proponents for coal-fired power stations argue that it is essential for a country like South Africa to keep using this fossil fuel, especially in the short term because of our glaring energy shortage. Those against it argue that we need to phase out coal and replace it with cleaner energy sources to limit the planet's warming to 1.5°C.
On the one hand, we desperately need electricity from whatever source. We cannot continue with load-shedding at stage six or even higher, as has been threatened. Our economy — and people's livelihoods — suffer because of the rolling blackouts. Those who say we need coal to provide electricity argue that it is a reliable source of energy. But the problem is that we need power stations where units don't break down. 
A few cabinet ministers firmly believe that we must not decommission coal-fired power stations and that fixing them will fix load-shedding. That belief is strong with our fairly new electricity minister, Kgosientsho Ramokgopa, who has presented this argument in parliament and in the media. 
Insiders in the presidency have told the Mail & Guardian that Ramokgopa has asked President Cyril Ramaphosa to delay the decommissioning of coal plants and amend the Integrated Resource Plan. 
This would imperil the Just Energy Transition Investment Plan and the money promised by international partners to wean the country off coal. The electricity minister's basic premise is that coal is reliable, won't take ages to come online as renewable energy would do and fixes the energy crisis in the short term. 
Mineral Resources and Energy Minister Gwede Mantashe is also known to be a strong proponent of coal. He recently said that if we move swiftly away from coal it would lead to calamity. He also warned that abandoning coal would lead to unemployment and darkness. 
Mantashe has also previously used the example of Germany where, because of the energy crunch facing Europe, that country is reverting to coal. His view is that it makes no sense to abandon coal.
Coal employed almost 93  000 people as of 2021. Can we afford to have more people lose their jobs?
On the opposite side of the coin, Crispian Olver, the executive director of the Presidential Climate Commission (PCC), says that we should not extend the lifespan of coal-fired power stations. At the launch of a recent report on the just energy transition, he said it would be detrimental financially, especially with partner groups pledging money to South Africa for clean energy. 
In the report the PCC says that aside from the financial aspect, the emissions from coal would be punished by other countries through the regulations they are implementing to address climate change. 
The M&G recently reported that these would include carbon pricing through the EU Carbon Border Adjustment Mechanism, which will affect iron, steel, cement, fertilisers and other sectors. 
South Africa is one of the highest carbon emitters globally and the highest on the continent, which is being hard hit by extreme weather events caused by climate change.
Olver says the country would also struggle to get money to extend coal's lifeline because most financial institutions are moving away from backing the development of dirty energy. 
There are other harms caused by coal-fired power stations. Air pollution releases toxins such as sulphur dioxide and nitrogen dioxide that cause severe respiratory illnesses among people, particularly in Mpumalanga where most of the coal-fired power stations are based. 
According to a recent report by the forestry, fisheries and the environment minister, Barbara Creecy, South Africa's greenhouse gas emissions have apparently decreased. The inventory shows that the country recorded a 0.8% decrease in carbon dioxide emissions between the years 2000 and 2020 — the period in which Covid regulations were introduced.
The report indicated that from 2017 to 2020 there was almost a 6% decrease in emissions. Without this period, would we have achieved a downturn in emissions? I doubt it. 
The report noted: "Power generation; transport; industrial fuel use; fugitive emissions from processing of fuels; livestock and waste management are the biggest sources of greenhouse emission in South Africa." 
But if we push for more coal, our greenhouse gas emissions will surely rise and rise, further worsening climate change to our detriment and that of the rest of the world. 
Providing renewable energy is not as easy as some people think. It's not as simple as "here is solar and wind and now our power problems are sorted". They need to be connected to a grid. Places like the Northern Cape produce solar energy but the grid is strongest in Mpumalanga where the coal and the coal-fired power stations are. 
So there needs to be investment in grid infrastructure, something Olver reiterated in the PCC report. He argued that the money that the various ministers plan to use to extend the life of coal plants should instead be used to strengthen and extend the electricity grid.
Without coal, can we realistically overcome load-shedding in the next year or two? I don't think so. But how long can we wait for renewables to join our ailing grid? 
The most important questions are, do we make a short-term solution by extending the life of coal-fired plants, damaging people's health, boosting global warming and thereby harming the planet, losing out in clean energy investment — and leaving the entire country behind? Or do we opt for cleaner energy solutions, live with load-shedding that damages the economy, get funding from international investors — and take everyone along to a better world in which climate change is limited?