Tunisia's shadow cartoonist Z fights fascism – The Mail & Guardian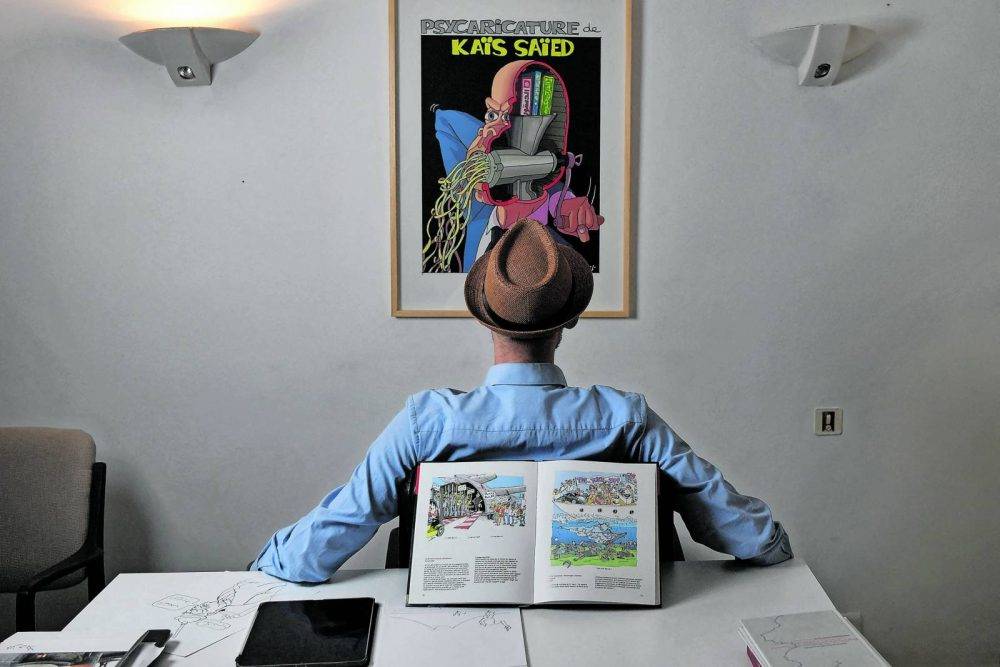 Relentless: The anonymous cartoonist in his office in Tunis. He has lampooned Tunisia's autocratic leaders. (Fethi Belaid/AFP)
Tunisia's top cartoonist doesn't hesitate to compare President Kais Saied with Hitler. It's a sign of the country's political climate, but such vehemence is nothing new for the artist who has regularly savaged Tunisian leaders.
He goes by the pseudonym Z and hides his face when posing for photos.
For years, Z sharply satirised Tunisia's former autocrat, Zine El Abidine Ben Ali, and those who followed. Now, he is one of the most ferocious critics of Saied, who assumed wide-ranging powers in 2021 and rules by decree.
The tensions since have fuelled Z's art with "more adrenaline than the decade following the revolution" of 2011, when Tunisia became the birthplace of the Arab Spring protests, he said.
In Z's drawings, Saied is depicted in Hitler-like poses with an overturned suction cup on his head to symbolise his "bouts of madness as he seeks to purify Tunisia", said the artist, a professional architect who divides his time between Tunisia and France.
Under Tunisia's new dictatorship, anonymity is prudent, he said.
After Saied's sweeping power grab, "anonymity became vital because some people are being arrested just for expressing their opinion on Facebook", said Z. "You can imagine then what it is like for a cartoonist who criticises the president day and night."
Yet he enjoys the thrill of publishing his subversive artwork. 
"The adrenaline of fear reminds me of the Ben Ali era when we played with fire."
Z's initial focus, back in 2007, was environmental protection, when state-backed development projects under Ben Ali threatened a seasonal flamingo habitat. Still a student, he raised awareness about the dangers facing the Lake Tunis lagoon on his website — Debatunisie.com — where the pink bird became his logo alongside critical articles.
Z said he became a cartoonist by chance, when one of his blogs was censored.
"I found that I could circumvent censorship by expressing myself through cartoons and reach a wider audience who was not interested in politics."
Under Ben Ali, who was ousted in the 2011 popular uprising, "being anonymous was necessary", said Z. "After the revolution I could have made myself known to the public, but there was a rise of Islamic activity threatening anyone who was against God."
And religion is a formidable source of inspiration for a cartoonist, he added.
Saied won a 2019 election but then assumed wide-reaching powers in July 2021 and last year rammed through a Constitution that gave his office sweeping powers and neutered parliament.
Since February, authorities have arrested more than 20 of his political opponents and personalities, including former ministers and business people.
Although Z's cartoons rarely appear in print in Tunisia, they have a large following on Twitter, Facebook and Instagram. The cartoonist said he does not claim to be changing mindsets through his drawings, but welcomes the reactions they trigger — even the insults and threats.
His more recent cartoons carry Arabic-language captions, instead of French, to reach a wider audience including young people, he said.
"When the news is racing like at the moment, sometimes I wake up at night with an idea that I absolutely have to get out," he said.
Z believes Tunisia "is a dictatorship veering into fascism" where "hatred and discrimination" are omnipresent. People "can be attacked on the streets … just for expressing an opinion" and Saied supporters "can quickly brand you as an Islamist or a traitor".
But none of the leaders of modern Tunisia escapes Z's wrath — not even Habib Bourguiba, who, after the country became independent in 1956, was its first president.
"Everything began [with Bourguiba], the nepotism and the arrogance of the political class," he said."It is as if a ghost lives in the basement of the presidential palace … and makes all those who enter it lose their mind." — AFP