5 Best Options Trading Courses for Indian Market!
List of Best Options Trading Courses for India: Options trading in India is one of the most demanded and rewarding skills that every newbie trader wants to master. However, options trading is a complex subject and the traders require to have a clear understanding of the concepts to make profits out of it. 
In this article, we will look into the best options trading courses available for beginners in the Indian market. All these courses cover options trading concepts in depth like Options greeks, options moneyness, options strategies, and more. Let's look into the list of these best options trading courses in India. 
Best Options Trading Courses for Indian Markets
Here are the top Options trading Courses for Indian traders offered by the best stock market training academies in India:
1) The complete options trading course for Beginners by FinGrad
The complete options trading course for Beginners is a video-based comprehensive course of over 240 minutes offered by FinGrad Academy. The course is dividend int six modules namely basics of options trading, options greeks and options chain, options trading using technical analysis, selecting strike prices, options trading strategies, psychology and money management in options trading.
In this course, you can learn the basics of Options Trading using technicals.  It is designed for newcomers to intermediate traders who want to learn the practical approach to Options Trading in the Indian Markets.
The course has over +8,500 enrollments with +4.8 ratings. You can enroll in the course here.
2) Mastering Futures & Options by BSE Varsity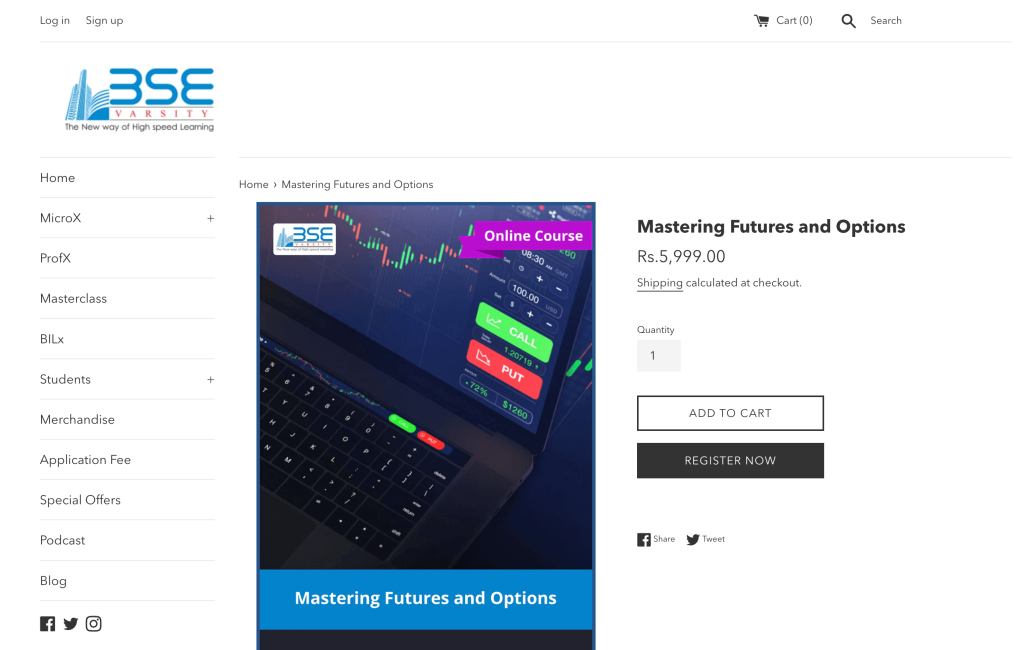 Mastering Futures & Options is offered by BSE Varsity which is a subsidiary company of BSE India. This is an intermediate course of 12 hours lessons in English. 
There are four sessions in this course. The first session is on Introduction to Derivatives. The second session is on futures contracts followed by options trading. The final session is on trading strategies using options. 
The main aim of this course is to provide the users with an in-depth understanding of the various underlying markets on which key derivative instruments are based, and in which they are frequently used. You can enroll in the course here.
3) Future and Option Trading Strategies by NSE India
This is a 10 hours online course and is offered by NSE Academy in collaboration with Empirical F&M Academy, as a joint certified course. This course covers options trading strategies, greeks, hedging, and calculations and focuses to provide practical trading to traders. 
The first module covers the Basic concepts of Futures and Options. The second module covers Factors affecting Options Prices, followed by Different views and strategies for each view. The final module explains the Various Future and Option Formula. You can enroll in this course here.
Also check out: FREE Stock market courses for beginners
4) Equity Derivatives certification exam by NISM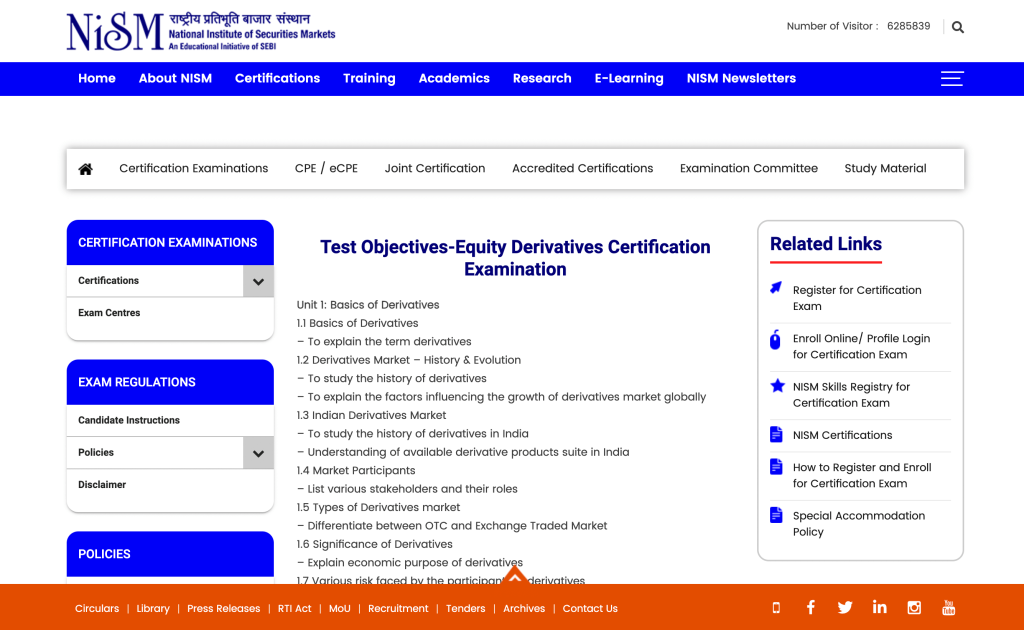 This Equity Derivatives Certification Examination is offered by the National Institute of Securites Market (NISM) and contains 10 modules. 
The modules covered in this exam are Basics of Derivatives, Understanding Index, Introduction to Forward, Introduction to Options, Options Trading Strategies, Introduction to Trading Systems, Introduction to Clearing, Legal and Regulatory Environment, Accounting and Taxation, and Finally Sales Practices and Investors Protection Services. You can enroll in Equity derivative certification exam here. 
5) Options Theory for Professional Trading by Zerodha Varsity
This course available on Zerodha website offers 25 text-based lessons. This Options Theory for Professional Trading by Zerodha is a basic and free course for beginners. 
The first few chapters cover CALL, PUT, Option Jargon, Options buying, options selling, and moneyness. The later chapters of this course cover options Greeks, case studies, physical settlement, and options profit/loss calculations. You can enroll in this course here.
Conclusion
In this article, we looked into the best options trading courses available for the Indian market. Apart from these stock market courses, you can also learn options trading from trading books, articles, and youtube videos, however, these courses will help you build a good foundation of options trading.

---
Start Your Stock Market Journey Today!
Want to learn Stock Market trading and Investing? Make sure to check out exclusive Stock Market courses by FinGrad, the learning initiative by Trade Brains. You can enroll in FREE courses and webinars available on FinGrad today and get ahead in your trading career. Join now!!