THE LITTLE MERMAID has its share of lovely moments but suffers due to its length
The Little Mermaid (English) Review {2.5/5} & Review Rating
THE LITTLE MERMAID is an unusual love story between a mermaid princess and a human prince. Ariel (Halle Bailey) is a mermaid and one of the seven daughters of King Triton (Javier Bardem). She is quite fascinated by the human world and human beings and wants to know more about them. She keeps collecting souvenirs from shipwrecks, as part of her interest in the human world. Triton detests this behaviour. He feels that humans are evil and that they are responsible for the death of his wife and Ariel's mother. Ariel, however, continues with her obsession. One day, she gets close to the ship of Prince Eric (Jonah Hauer-King). She overhears his talk with Prime Minister Grimsby (Art Malik) and realizes that he's a kind and compassionate man. The ship gets trapped in a storm and Ariel saves Eric's life. She sings a song while trying to revive Eric. Eric, in a half-unconscious state, sees a brief glimpse of her. Ariel runs away as Eric's crew comes running to save the Prince. After Eric recovers, he tells his officials to find the girl who saved him. Queen Selina (Noma Dumezweni), however, bars him from stepping outside the castle. Ariel, meanwhile, is longing to meet Eric again. This is when she meets Ursula (Melissa McCarthy), Ariel's aunt who has been banished for her nefarious activities. Ursula promises to turn Ariel into a human being. But her terms and conditions are quite risky. Ariel accepts it, nevertheless. What happens next forms the rest of the film.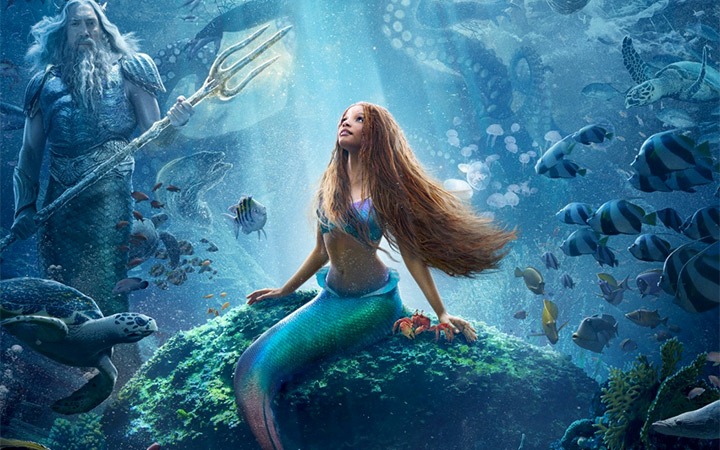 Hans Christian Andersen and David Magee's story is fascinating and classic. David Magee's screenplay is a mixed bag. While some scenes are cute, the impact of several scenes is limited. The dialogues are well worded.
Rob Marshall's direction is okay. He has handled the scale and grandeur well. Some scenes are executed deftly like Ariel saving the prince, Ariel and Eric exploring the island, the song 'Kiss The Girl' etc. The scenes involving the bird and crab are sure to raise laughs.
On the flipside, the impact is heavily diluted due to the long length (135 minutes). The animated version had a runtime of just 83 minutes and was quite fast-paced. The live-action film, meanwhile, drags. A few scenes also seem clichéd and give a been-there-done-that feeling. Moreover, the villain is too loud and doesn't come out well, the way it did in the animated version of THE LITTLE MERMAID.
Speaking of performances, Halle Bailey gives her best and makes the film watchable. She hardly has any dialogues in the second half and she beautifully communicates through her eyes and expressions. Jonah Hauer-King is dashing and is apt for the part. Javier Bardem is fair. Melissa McCarthy hams. Art Malik and Noma Dumezweni do well. Daveed Diggs (as the voice of Sebastian, the crab), Awkwafina (voice of Scuttle, the gannet), Jacob Tremblay (voice of Flounder, the tropical fish) do a good job with their voiceovers.
Alan Menken's music is entertaining and adds to the narrative. The ones that leave a mark are 'Under The Sea', 'Kiss The Girl' and the two versions of 'Part Of Your World'. Alan Menken's background music is cinematic. Dion Beebe's cinematography is spectacular. John Myhre's production design is rich but looks a bit animated and away from reality in some scenes. VFX matches global standards. Colleen Atwood's costumes are appealing. Wyatt Smith's editing could have been sharper.
On the whole, THE LITTLE MERMAID has its share of lovely moments but suffers due to its long length, weak villain track and clichéd narrative. At the box office, it will appeal mainly to a section of the kids.