Warren County highway departments have a field day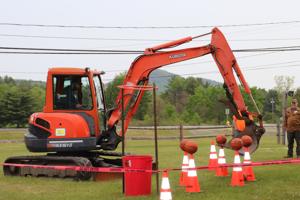 Share this article paywall-free.
WARRENSBURG — Crewmembers from all the various highway departments throughout Warren County gathered Wednesday at the Warren County Fairgrounds for Warren County Highway Employee Safety Days.
"We started it to try to give them some safety education (and) work in some fun and some skills where they get some bragging rights," said Amy Clute, insurance administrator for Warren County. "Safety is the priority, but I think they have a good day. We thank them for all they do all winter."
Modeled after a similar event in Washington County, the two-day field day training connects municipal employees with safety speakers, equipment vendors and hands-on activities meant to test and grow their proficiency and skill.
"It is not mandatory. It is not required, but what they learn here we hope keeps them safe, prevents accidents, and obviously cost to the taxpayers of the county," Clute said.
It also gives the crewmembers a chance to break up the heavy workload they endure and blow off a little steam while engaging in valuable safety training.
"They can network. Highway departments often don't see each other. They might work with each other on a paving job, but they don't have that chance to really talk with each other," she said.
"This is all of us," Scott Rowland, a 20-year veteran with the Queensbury Highway Department added. "You've got Glens Falls, Queensbury, we all know each other, honestly, but we get together around stuff like this here and we do pretty good."
Alex Portal is a staff writer who covers Moreau, South Glens Falls, and northern Saratoga County. He can be reached by calling or texting (838) 722-0945 or emailing aportal@poststar.com.