PPF Calculator: Deposit Rs 1 lakh every year, get Rs 27,12,139 on maturity, know the complete scheme here
To invest in PPF, you can open an account in bank or post office by filling the form along with Aadhar card and other necessary documents.
Public Provident Fund (PPF) is a great and safe investment vehicle to create a large corpus in the long run. This (Public Provident Fund) is a savings scheme of the Government of India which is completely safe. Under this scheme, you can open an account at one place either in the bank or post office. In this scheme you can invest maximum up to Rs 1.50 lakh annually. The lock-in period of PPF account is for 15 years. It is also very easy to understand the return on investment. Let us understand here with the help of PPF calculator, the total amount invested at the time of maturity, with the help of a calculation, we will understand.
What is the return on investment of Rs 1 lakh per year?
Before understanding the returns, let us tell you here that the interest rate on PPF is decided by the Government of India only. On this basis, be it bank or post office, returns are calculated. At present 7.1 percent interest is being given on PPF. According to the calculations of Axis Bank PPF Calculator, now if you deposit Rs 1 lakh in PPF account every year, then at the interest rate of 7.10 percent, you will get a total of Rs 27,000 on maturity after 15 years. You will get an amount of Rs 12,139. The total investment made by you in this is Rs 15,00,000. On this amount you get Rs 12,12,139 as interest, which together comes to Rs 27,12,139.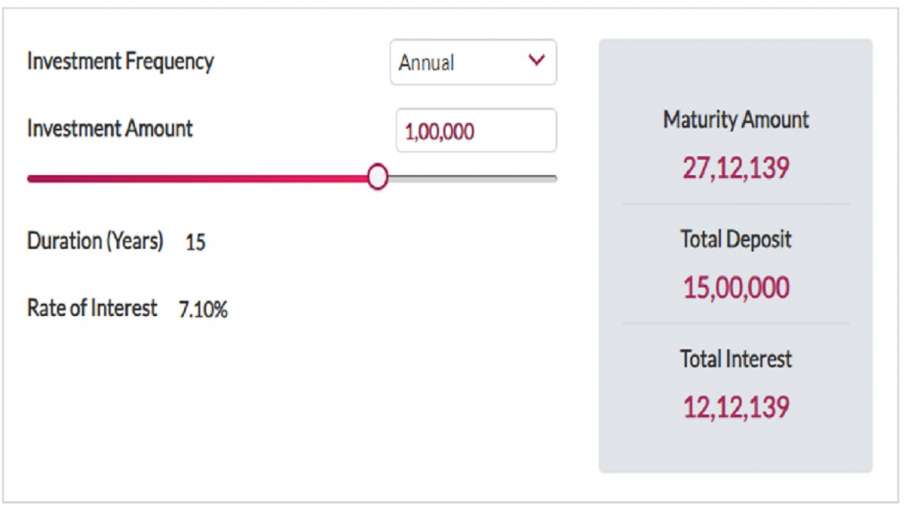 This is why PPF is special
You can invest in Public Provident Fund i.e. PPF Account with just Rs 500 annually. A maximum of Rs 1.50 lakh can be invested in a financial year. If you want, you can also take a loan from the third year to the sixth year if needed. Another important thing is that the interest earned on PPF is tax free. Besides, you can also avail exemption on this investment under Section 80C of Income Tax.
Benefits of PPF calculator
PPF Calculator is helpful in understanding investment. The PPF calculator can also help you decide the maturity period for your investment as per your convenience. Let us tell you here, that PPF account can be extended in a block of 5 years even after maturity after 15 years.