Penny Wong ramps up push for Australia's seat at UN Security Council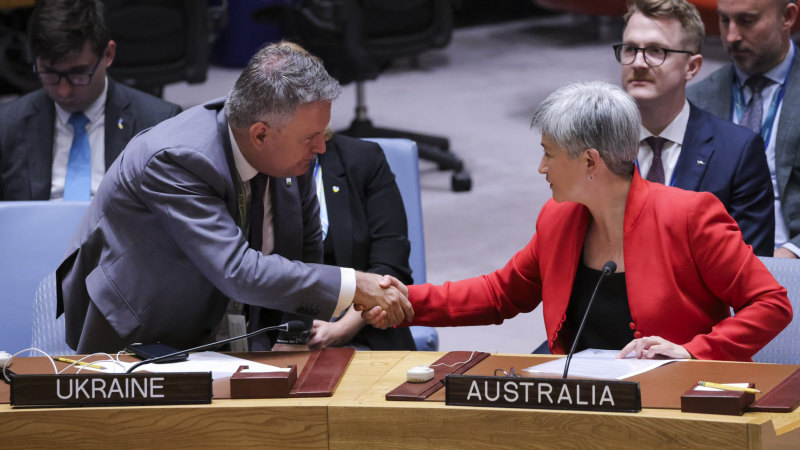 French President Emmanuel Macron, British Prime Minister Rishi Sunak and Indian Prime Minister Narendra Modi – whose country is engulfed in a scandal over the alleged murder of a Sikh separatist leader – were also absent.
Loading
Almost 20 months since Russia's invasion of Ukraine, the push to reform the UN took centre stage this week, with Ukraine's President Volodymyr Zelensky giving an impassioned address calling for Russia to be stripped of its authority on the Security Council.
Wong will use her speech to back the push for a UN shake-up, suggesting that nations from Africa, Latin America and Asia should have greater representation on the committee – including permanent seats for India and Japan, two of Australia's Quad partners.
She will also remind the UN that Australia wants a spot on the council by 2029.
And relating to Russia, "we must demand more of the permanent members, including constraints on the use of the veto," Wong said.
Loading
"With its special responsibility as a permanent member of the Security Council, Russia mocks the UN every day it continues its illegal and immoral invasion of Ukraine.
"The rest of the permanent members and all member states must be unyielding in our response to Russia's grave violation of Article II of our shared UN Charter. If we waver in our response to Russia's invasion of Ukraine, we would be validating the most fundamental of breaches of international law.
"Who might be the next victim of state-based aggression?"
Wong's address to the UN General Assembly takes place a month before Prime Minister Anthony Albanese heads to Washington for a highly anticipated state visit with Biden.
It also caps off a busy week in New York, in which the Foreign Minister took part in bilateral meetings with counterparts from Israel, Germany, Barbados and Canada, among others.
She also co-hosted a high-level event with Japan on a fissile material cut-off treaty, which aims to prevent the continued production of the material that creates nuclear weapons.
The UN first flagged the need for such a treaty 30 years ago, but decades later no such treaty exists.
"Australia wants a world where no country dominates, and no country is dominated," she said.