THE GREAT INDIAN FAMILY rests on a promising storyline but fails to impress
The Great Indian Family Review {2.0/5} & Review Rating
THE GREAT INDIAN FAMILY is the story of a devotional singer. Ved Vyas Tripathi (Vicky Kaushal) lives in Balrampur with his deeply religious family comprising Pandit Siya Ram Tripathi (Kumud Mishra), bua Sushila Kumari (Alka Amin), chacha Balak Ram (Manoj Pahwa), chachi Hema (Sadiya Siddiqui) and twin sister Gunja (Srishti Dixit). Ved is also known as Bhajan Kumar since he's a reputed devotional singer in the town. Ved's best friends are Bhaata (Bhuvan Arora) and Sarveshwar (Ashutosh Ujjwal). Sarveshwar falls for Jasmeet (Manushi Chhillar) and the former asks Bhaata and Ved for help to impress her. While doing so, Ved falls for Jasmeet. This creates a rift between Ved and Sarveshwar. If that is not enough, Ved gets another shocker. A stranger arrives at their house and leaves a letter informing them that Ved was born a Muslim. What happens next forms the rest of the film.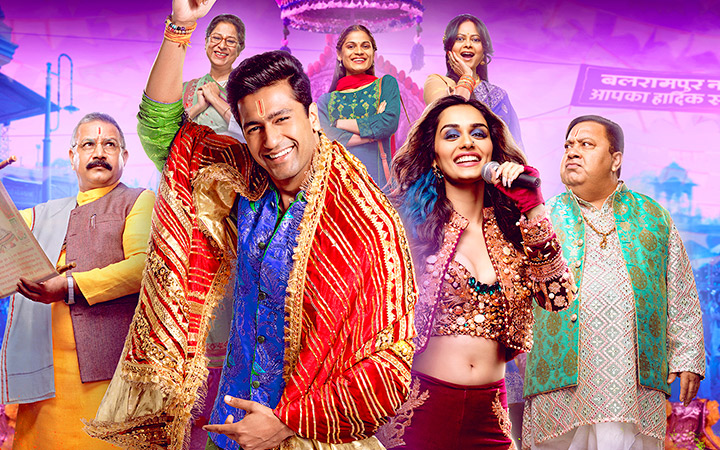 Vijay Krishna Acharya's story is very promising and has all the trappings of a commercial entertainer. But Vijay Krishna Acharya's screenplay is not upto the mark. The writer-director tries his best to add dramatic moments but these scenes fail to pack a punch. Vijay Krishna Acharya's dialogues are sharp in places.
Vijay Krishna Acharya's direction gets affected due to an underwhelming script. To give credit where it's due, he has handled certain moments with panache like Ved's childhood track, Ved meeting Abdul and his family for the first time, the climax monologue etc. The idea of the family undertaking a vote before a crucial decision and also the snakes-and-ladder aspect is creative. The message of communal harmony also comes across well.
However, a film like this should have ideally had more humour and more hard-hitting scenes. THE GREAT INDIAN FAMILY has neither. The goings-on that occur after Ved's Muslim identity is revealed doesn't create the desired impact. The romantic track is also weak.
The Great Indian Family Trailer | Vicky Kaushal, Manushi Chhillar | Vijay Krishna Acharya
Speaking of performances, Vicky Kaushal, as always, puts up a very sincere act. The scene in the second half where he struggles to speak while crying is damn good and shows his acting brilliance. Manushi Chhillar has an arresting screen presence. But she is wasted. In fact, she is hardly there in the film after the first 45 minutes. Kumud Mishra leaves a mark. He is also convincing as an influential town resident. Manoj Pahwa, too, performs well. Alka Amin, Sadiya Siddiqui and Srishti Dixit lend able support. Bhuvan Arora and Ashutosh Ujjwal are okay. Yashpal Sharma (Pandit Jagannath Mishra) and Aasif Khan (Tulsidas Mishra) are decent as the antagonists. Hittesh Arrora (Abdul) and Devang Tanna (Pintu) are likeable. Saloni Khanna (Aishwarya) and Paritosh Sand (Jai Prakash Malpani) don't have much to do.
Pritam's music won't have a long shelf life. All three songs – 'Kanhaiya Twitter Pe Aaja', 'Sahibaa' and 'Ki Farak Painda Hai' – are beautifully shot and choreographed but are not catchy enough. Kingshuk Chakravarty's background score is appropriate.
Ayananka Bose's cinematography is neat. Sumit Basu, Snigdha Basu and Rajnish Hedao's production design is very authentic and a layman won't be able to realize that the whole film has been shot on a set and not in real-life locations. Sheetal Sharma's costumes are straight out of life. YFX's VFX is top-class. Charu Shree Roy's editing is fine.
On the whole, THE GREAT INDIAN FAMILY rests on a promising storyline but fails to impress since the script and goings-on don't pack a punch. At the box office, the film will struggle due to a lack of awareness.