National prepared to join forces with First to get into power
"Labour's record is abysmal in three years with an absolute majority and God help us if they end up going with Te Pati Maori and the Greens," he said.
"We'd all be packing up and leaving."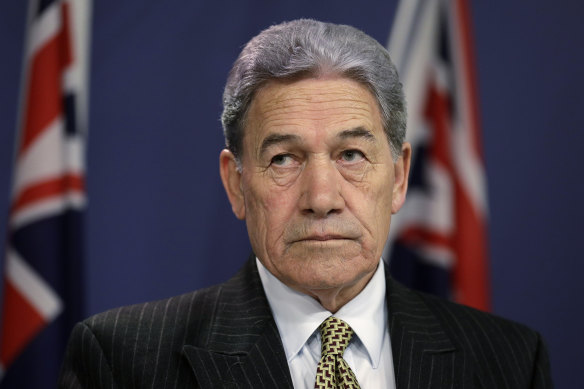 The decision changes the dynamic of the election campaign, which will shift to the possibilities of how a National-ACT-NZ First coalition could govern.
While National and ACT are aligned on key issues, NZ First are opposed to their centrepiece promise for tax cuts, which Peters says the country cannot afford.
His party is also attempting to woo the radical anti-vax fringe with a promise of a fresh inquiry into COVID-19 with sweeping powers.
Coalitions are the norm under the country's electoral system and only once since that system was introduced in 1996 has a party been able to govern alone.
Loading
Peters is a one-time National Party member and his party has previously been a coalition partner in both Labour and National-led governments. He served as deputy prime minister and foreign minister in Jacinda Ardern's Labour government.
Last week, TVNZ released its latest political poll conducted by Verian, with National on 37 per cent and Labour on just 27. Labour's result is its lowest in six years and would see it slip into opposition.
Prime Minister Chris Hipkins put a brave face on the outcome, pointing to the fact National had slid two points from last week.
"My job over the next three weeks is to pick up those votes."
Both ACT and the Greens enjoyed a two-point bump to 12 per cent, with the Maori Party on 3.0 per cent. NZ First was steady at 5 per cent and on track to return to parliament after losing its only seat last time. Parties need to win at least five per cent of the vote to secure a seat.
Luxon said he was unconcerned about National's two-point drop, urging supporters not to flirt with minor parties.
He wouldn't entertain the possibilities for a coalition – which could include sharing a cabinet table or relegating one party to the outer ministry – or how he would split ministries.
"All I can say is I'll be prime minister and Nicola Willis will be finance minister and beyond that it will be something we'll talk through in coalition arrangements," he said.
Reuters, AAP