WATCH: Australia's smart review on Marnus Labuschagne's insistence help them get rid of Joe Root – ENG vs AUS, ODI World Cup 2023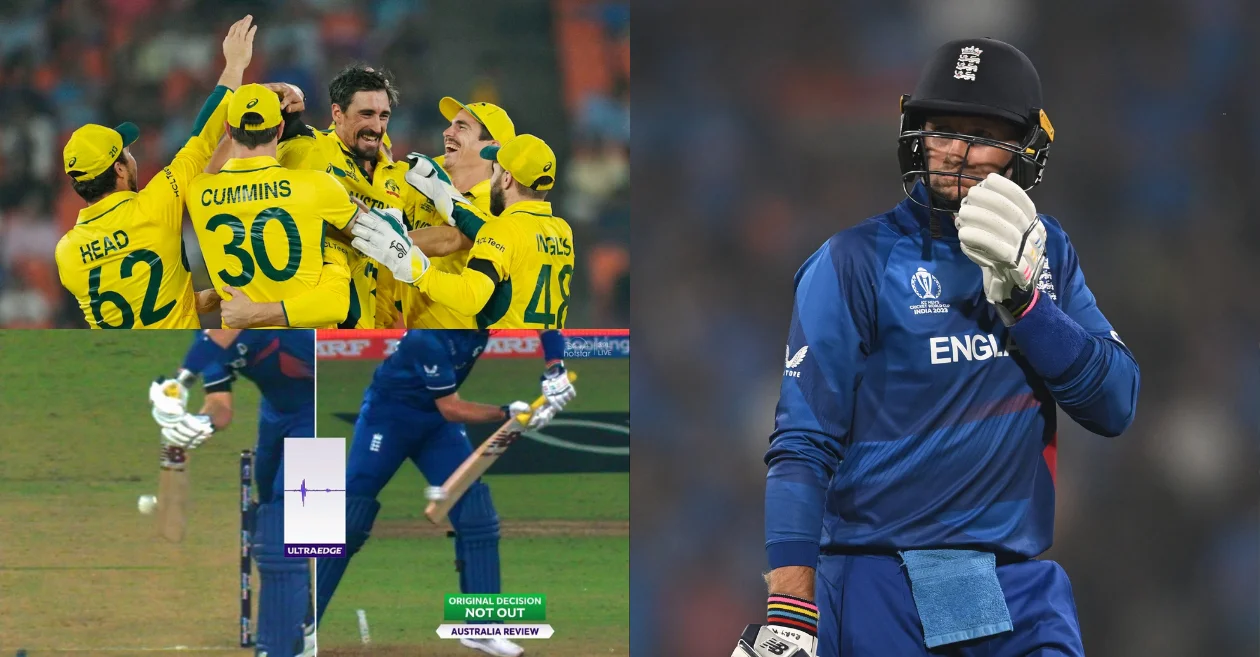 The 36th match of the ICC Cricket World Cup 2023 saw England take on Australia at the iconic Narendra Modi Stadium in Ahmedabad and treated fans to all the elements of a classic cricket showdown. However, the one moment that stood out among all was a brilliant DRS call from the Aussie side, which helped them get rid of star English batter Joe Root early in the game.
Australia's decent start and England's fightback
The match between the two formidable sides commenced with Australia putting up a decent batting performance, and Marnus Labuschagne standing out with his well-constructed 71 runs off 83 balls for them. Meanwhile, Steve Smith also contributed with a valuable 44 off 52 deliveries. Nevertheless, England's Chris Woakes turned the tide with his brilliant bowling, taking four wickets for just 54 runs. As a result, the Australian team was bundled out for a competitive but not insurmountable total of 286 in 49.3 overs.
Joe Root's crucial dismissal
In the second innings, England faced early pressure from the Aussie bowlers, losing key wickets in their pursuit of the target. Among these dismissals, the one that stood out was the clever dismissal of Root, who had the potential to anchor the English innings but went back to the pavilion off a brilliant review from Australia.
Marnus Labuschagne's insistence and Australia's sharp review
Root's dismissal came in the 4.3rd over when the scoreboard was reading 19/2, and he faced an outside off-length delivery from Mitchell Starc, which was shaping away from him. The right-handed batter attempted a shot to steer the ball down with an open face, but he got a faint edge on the ball. Although the on-field umpire, Marais Erasmus, missed the deflection, failing to notice the faint nick, the sharp-eared Labuschagne was attentive and was quick to express his excitement.
Labuschagne immediately conveyed his confidence in the potential dismissal to his teammates and skipper Pat Cummins, who hesitantly decided to go for the review with just two seconds left to challenge the umpire's decision.
To the delight of the Australian camp, the UltraEdge technology confirmed what Labuschagne had heard – a clear deflection off Joe Root's bat. This crucial review not only sent Root back to the pavilion but also changed the dynamics of the game, putting England under even more pressure.
Here's the video: