Glenn Maxwell's double hundred | Top 5 fastest double centuries in ODI cricket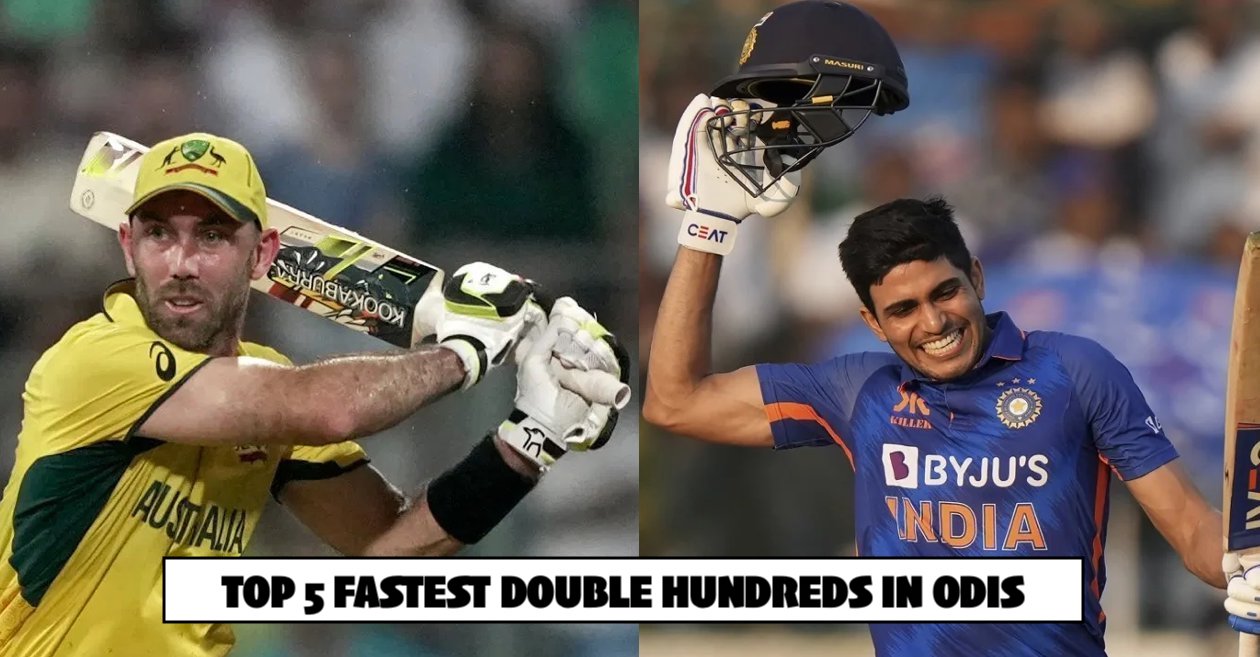 During a seemingly calm Tuesday night, the Wankhede Stadium in Mumbai reverberated with an extraordinary exhibition of cricket, initially showcasing the formidable performance of the Afghanistan bowlers. With Australia struggling at 7 wickets down, the match teetered on the brink of what could have been the most significant upset in the tournament's history. However, the scene swiftly transformed with the entrance of Glenn Maxwell, whose remarkable performance echoed the unforgettable essence of Kapil Dev's iconic 175 not out in the 1983 World Cup.
Maxwell's unparalleled display culminated in a stunning feat of 201 not out, effectively orchestrating one of the most improbable heists, thus etching his name in history with the greatest World Cup performance ever witnessed.
Top 5 fastest double centuries in One-Day Internationals
In the history of One-Day International (ODI) cricket, the feat of scoring a double century stands as a monumental achievement, demanding a unique combination of skill, endurance, and unwavering determination. As cricket enthusiasts worldwide celebrate the prowess of these exceptional athletes, let's take a closer look at the top 5 fastest double centuries that have graced the cricketing world.
1) Ishan Kishan's Lightning-Quick Knock
Kicking off the list is Ishan Kishan, whose explosive innings of 126 balls secured his place among the fastest double centurions in ODI cricket. The Indian batsman's remarkable performance against Bangladesh at Chattogram on December 10, 2022 showcased his formidable prowess and garnered widespread acclaim within the cricketing community.
2) Glenn Maxwell's Electrifying Display
Following closely behind is Australian all-rounder Glenn Maxwell, who etched his name in cricketing history with a blistering double century scored in just 128 balls. Maxwell's remarkable feat against Afghanistan exemplified his extraordinary power-hitting abilities, leaving an indelible mark on the sport.
Take a bow, Glenn Maxwell 🙏#cricket #CWC23 #ODIWorldCup2023 #GlennMaxwell #AUSvsAFG #CricketTwitter pic.twitter.com/PAx10JUHOP

— CricketTimes.com (@CricketTimesHQ) November 7, 2023
3) Chris Gayle's Unparalleled Dominance
The West Indies' formidable Chris Gayle occupies a prominent spot on this list, having achieved a double century in 138 balls against Zimbabwe at Canberra on February 24, 2014. Gayle's unparalleled dominance and unwavering determination during his innings underscored his status as one of cricket's most explosive and dynamic batsmen.
4) Virender Sehwag's Unmatched Flair
Renowned for his aggressive style and unparalleled flair, former Indian opener Virender Sehwag's double century in 140 balls against West Indies in Indore on December 08, 2011 solidified his position as one of the most revered cricketers of his time. Sehwag's breathtaking performance remains etched in the memories of fans worldwide as a testament to his extraordinary talent and contribution to the sport.
5) Shubman Gill's Rising Star
Rounding off the list is the emerging talent of Shubman Gill, whose double century in 145 balls against New Zealand in Hyderabad on January 18 this year marked a significant milestone in his burgeoning career. Gill's composed yet aggressive approach at the crease highlighted his potential as a future stalwart in the world of cricket, captivating the attention of cricket aficionados globally.
As these cricketing legends and rising stars continue to push the boundaries of what is achievable on the pitch, their scinitillating performances serve as a source of inspiration and awe, igniting a collective passion for the sport that transcends geographical boundaries and unites fans in their appreciation of the game.