Expanding Israeli ground operations plunge Gazans to more human suffering – World News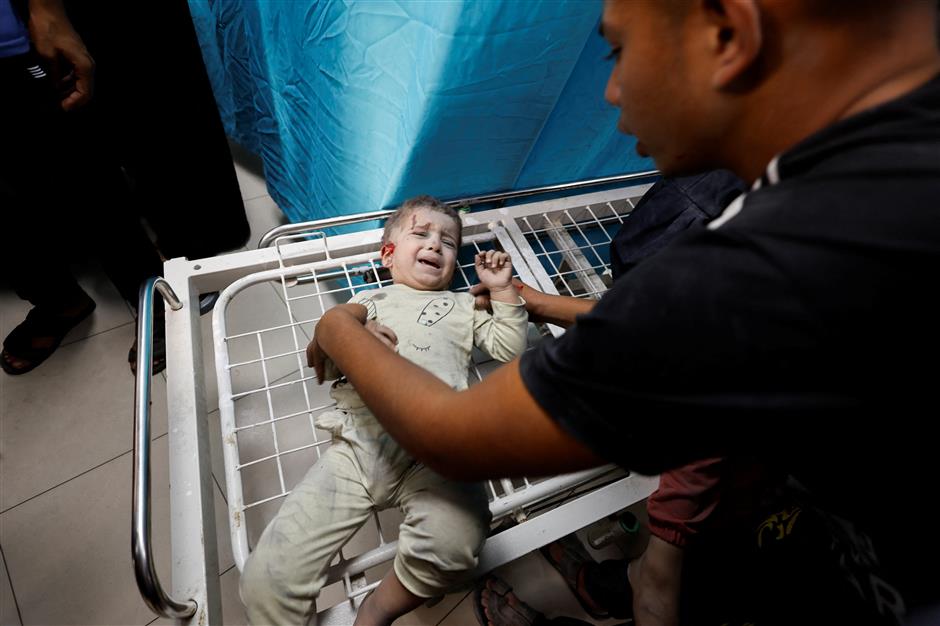 Reuters
A Palestinian child wounded in Israeli strikes waits to receive treatment at Nasser hospital in Khan Younis in the southern Gaza Strip on November 12, 2023.
As Israeli attacks forced tens of thousands of Palestinians to disembark a perilous journey out of northern Gaza Strip in recent days, the once populous Gaza City is becoming a ghost town, with only the bursts of gunfire reverberating among piles of rubble.
On Saturday, the 36th day of the deadly Hama-Israel conflict, Israeli troops advanced deep into the heart of the city under the cover of heavy bombardment. Local eyewitnesses said the Israeli forces reached Al-Rimal, a neighborhood housing the enclave's largest medical complex, Al Shifa hospital, which Israel says houses a Hamas military command.
At the previous night, massive explosions were heard from violent armed clashes between Israeli soldiers and Hamas militants in various areas of the city, especially in the vicinity of the hospital, Palestinian eyewitnesses told Xinhua.
In the hospital, two babies have died while 37 other premature infants were at risk as their incubators were out of power, according to the Ramallah-based Palestinian Health Ministry on Saturday.
"We are neither terrorists nor missile strikers. Our children are being killed before our eyes, and all we want is for them to survive," Mohammed Bashir, a displaced Palestinian, told Xinhua.
"We are forced to desert our houses and head to the south of Gaza. However, we have not found any safe place," the 48-year-old father of six added.
Through a complete siege on Gaza and massive airstrikes on houses and facilities identified as Hamas targets, the Israeli military vowed to root out the Palestinian faction which had killed 1,200 people in a surprise attack on Israel on October 7.
The successive Israeli air and artillery attacks have taken a heavy civilian toll in Gaza. Deaths and injuries were confirmed around the clock, exceeding hospital capacity, and some of the wounded people had to rest in the open, according to local Palestinians.
The Israeli army established an evacuation corridor along Salah al-Din Road, the main north-south traffic artery running the length of Gaza, between 10 am and 16 pm For weeks, it has been calling northern residents to move south to get out of harm's way.
Bashir said, however, many residents have been reluctant to respond to these calls. Some worries about severe overcrowding in shelters in central and southern Gaza, and the risks of being caught in Israeli attacks on the road and after arrival.
Initially, Saeed Abdel Rahman, 63, from the Sheikh Radwan neighborhood in northern Gaza, refused to leave his house to not repeat the displacement of 1948, as his parents did.
However, with the escalation of fighting in Gaza, tens of thousands of residents had no choice but to flee. Meanwhile, air strikes and death are strongly present in parts of southern region.
Still, not everyone can leave, as the fighting has trapped many of the most vulnerable in a children's hospital where hundreds are taking shelter.
In northern Gaza, doctors of Al-Nasr and Al-Rantisi Children's Hospital said they were encircled by Israeli forces, urging the International Committee of the Red Cross to evacuate remaining patients from the facility.
The administration of Al Awda Hospital said that many people taking refuge in courtyards were killed and injured in repeated Israeli attacks.
Since the outbreak of conflict, more than 11,078 Palestinians had been killed in Gaza, including 4,506 children, according to the Hamas-run Gaza Health Ministry on Friday. Some 27,490 Palestinians in Gaza had been wounded, it said.